Advantages & Disadvantages of Triple Zero Roulette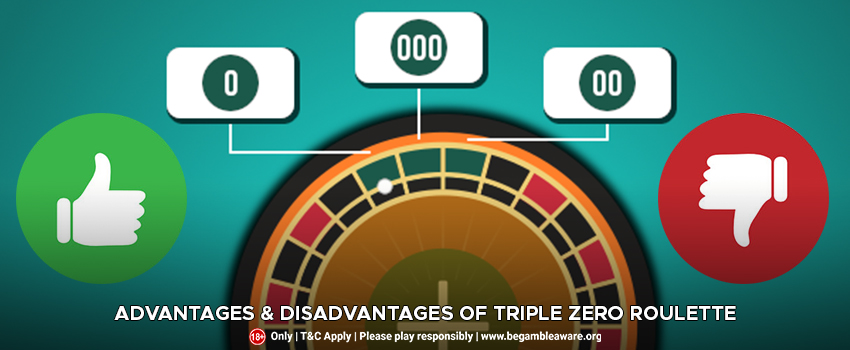 Roulette is available in a variety of variants. Based on the casino, you will be able to play American, European, French, and Triple Zero Roulette.
The Triple Zero wheel is becoming increasingly popular. You may be intrigued by playing this distinctive form of roulette.
Before playing, however, you need to know the pros and cons of the game. This article will let you know everythings you need to know.
Advantages of the Triple Zero Version
The game of triple zero has gained popularity due to several reasons. Here are some reasons –
Something Different
If you're tired of the identical American or European roulette variants worldwide, You might like Triple Zero Roulette. Space or the triple zero pockets make the wheel appear intriguing. If you're thinking of switching the game up, you can test this game.
More Available Bets
Three pockets are zero-based at the bottom of the triple zero betting board. In turn, you'll have more kinds of bets available. To begin, you could make a straight bet with triple zero. If the ball hits this pocket, you'll be paid a 35-to-1 payout.
It is also possible to place bets with a mix of triple zero and the pockets around it. If you're a fan of placing three beds and corner beds, you'll be delighted by this feature.
Larger Comps
The casinos will pay you more. Of course, the comp scoring system used for tables isn't completely perfect. In general, however, you will receive 3 times the number of comps if you are a European Roulette player and 1.5x the comps for an American player.
If you're a person who likes receiving freebies, you'll appreciate this feature. Casinos will provide you with food, drinks, and other benefits when betting on this roulette.
Disadvantages of Triple Zero Roulette
We have mentioned that playing the game of triple zero can lead to greater losses. This is not the only thing that you have to be concerned about when playing the game.
Worst Paying Game
Below is the house advantage of the roulette wheel with three wheels.
American = 5.26 percent house edge

European = 2.70 percent house edge

Triple Zero = 7.69% house edge
It's clear that Triple Zero Roulette, as you can see, is one of the worst. It's named appropriately because it has a house edge that's three times more than the European game. The house edge is 1.5x more than that of the American version.
For perspective, slots that range between 7% and 8% house edge are thought to be among the most dangerous alternatives. 
Triple Zero Roulette fits right with the other low-paying slot machines. This is especially true if you consider that table games typically have higher payouts than slot machine games.
Comps Not Worth the Extra Losses
As we have mentioned before, you can anticipate greater rewards when playing the Triple Zero variant. Casinos will pay more to players who have a higher probability of losing money.
You'll bet $5,000 through the entire night at Triple Zero Roulette.

The casino's standard rate of compensation is 0.15 percent in the case of Triple Zero Roulette.

5,000 x 0.0015 = 7.5

You'll get $7.50 worth of credits.

5,000 x 0.0769 = 384.50

Then you'll be losing $384.50.

5 / 7.5 = 51.27

The theoretical loss is 51.27x greater than the benefits.
Should You Avoid Triple Zero Roulette at All Costs?
Overall, the Triple Zero version features more negatives than positives. It would be best if you seriously considered whether it's worth it to play this game.
In all reality, the best option is to play European and American Roulette. But this game does possess its appeal. It is roulette played entirely differently and provides several different betting options.
Conclusion
It's not difficult to find Triple Zero Roulette these times. It's being offered in an increasing number of casinos. However, the main question is whether you should even play the game. 
This could cause you to lose more money in a short time. If you're interested in this Triple Zero wheel, you must think about limiting your playing on it. The game will eat your money faster than any other game in the casino.