Useful Baccarat Strategy For Winning: Give The Best Odds To Yourself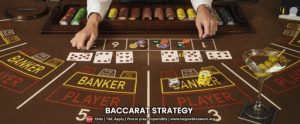 Are you inspired by James Bond's Baccarat game and learn the baccarat strategy? Then the below article must be one useful piece for you. Baccarat is a very popular elegant casino game among casual and seasoned players. The experience is the same for both the online and offline traditional modes. Let's raise the stakes to provide you with a great Baccarat Strategy to enhance the experience furthermore.
Irrespective of the modes (i.e. online or traditional), the baccarat strategy remains the same to gain advantages. We will be discussing the most useful tips with a brief idea of the game for the newcomers in the casino world.
How Baccarat is played?
Among all the games available in a casino, Baccarat is the most suitable for beginners. Normally baccarat strategy does not require any special skill, and if it is a mini-baccarat, then the dealer gets control of the cards. The main goal of the game is to go as close as possible to the total value of 9 based on both player's and banker's hands.
All the ten numbers and the face cards like (K, J, or Q) have a value of 0. The value of Ace is one, and the remaining of all the numbered cards are considered on their face value itself, e.g., 2 to 9.
As already mentioned, there are two types of hands available in this game, so you can place your bet on either hand. The dealer places two cards on each hand, and then the value of the cards gets calculated on each hand.
If the total value of 2 cards is a two-digit number, then the second digit gets considered. For example, if someone gets cards 9 & 3 in the player's hand, then the total value of the hand will be 2 (9+3=12, considering only the 2nd digit). 9 is the highest number in this game, the lowest is 0. If the total value is 8 or 9 on any hands, then it is known as a Natural nine or Natural 8.
The different types of bets in Baccarat
As you have got a brief understanding of how to play Baccarat, let's understand what are the different types of bets you can place in it. 
Player Bet
You bet the money on the player side, and if the player side wins, the payout will be 100 percent.
Banker Bet
Unlike player bets, if you win the banker's hand, you have to pay a 5 percent commission to the house from your profit amount.
Tie Bet
It is the most profitable bet for a player. In this case, you are simply betting that both the player's and banker's hand will get the same total. And if you win this bet, there will be a payout at 8:1. For example, if you bet $10 on a tie bet and if you win, you will get a profit of $80 along with your initial deposit of $10.
As per the above details, it might sound that the game of Baccarat is quite easy; however, few strategies must be followed to maximize the earning and win consistently. 
Different Baccarat Strategy
There is no pattern
Many people suggest that one must need to understand the pattern to win the game of Baccarat. And therefore keep track of the same. Like what is the most common outcome in a table if a player or banker or a tie. But we need to keep in mind that each result is a separate hand, and it is not possible to make sure what will be the exact outcome.
Which one is the smart bet?
It might come to your mind sitting at a baccarat table which is a smart bet among the above-mentioned bets. Commonly it can be perceived that there is a 5 percent commission applied in case of banker's bet. However, a banker's bet has got a lower house edge, which makes the payout worth it in the long run. So this is a very crucial baccarat strategy to keep in mind while doing the maths of profit.
Never go for a tie bet
Though a tie bet is the most tempting one in this game, it's always advised not to go for the same as you have to be very lucky to win such a bet. So the most important baccarat strategy is to be precise there is only a 9 percent to get tie bet in Baccarat.
Keep the sessions short
It's always advised for Baccarat to keep the game short as it is more like a sprint than a marathon. Never get greedy and get out of the game early from the game before your winning trend takes a U-turn. It's always good to swing between a player's bet and banker's bet and keep the session short as much as 10 to 15 minutes.
Never raise a bet in a losing streak
This is not solely a baccarat strategy, but in any casino games, it always holds that one should never go for a bet which can not be afforded to lose and to raise a bet in a losing streak. Few people have got a tendency to raise their bet in a losing streak to cover up their previous loss. But on the other hand, it's logical to raise the bet in a winning streak and decrease it in a losing streak.
Look out for fewer decks
Generally, in a traditional baccarat game, standard eight decks of cards are found in a shoe; however, in an online mode, it can be found lesser decks are being used as these are not physical cards. So a player gets a slight advantage if the decks are less.
Conclusion
Now you might feel confident after going through all the strategies and ready to indulge in your very own James Bond fantasy at a baccarat table. Let's get ready for it and good luck.