How To Check If Your Scratch Card Is Secure?
Throughout history, mankind tended to have a common foible-gambling. To cater for the gambling itch, casinos came into being and sought to pile on the fun and thrills and get players coming back for more of the same.
As casinos evolved, they eventually came to feature a really wide array of casino games. Online scratch cards are one of the more recent casino games and are structured as to require no skill or strategy on the part of the player. Indeed, all that is needed is for the player is to scratch off a foil-covered part and discover what the Lady Luck has in store for him/her.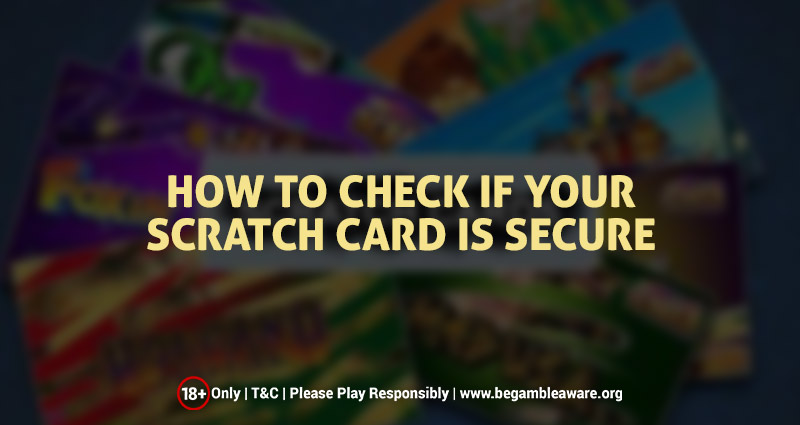 Scratch cards games are of course played in an online casino, with the said online casino being accessed over the net via mobile or PC. However, since players play with real money in online casinos, this creates the possibility that fraudsters could easily hack into online casinos and make off with customer funds. Or is that actually so?
Read on and learn more about this and other matters related to online scratch cards.
Storming Heaven With Online Scratch Cards
There are lots of things worth knowing about playing online scratch card games at online casinos. Some of these are as follows:
Safety and Security – While a few online casinos have been hacked and compromised, that was a while ago. Online casinos these days fully care about their reputation and do not want to be seen as weak on security. As a result, just about every online casino on the globe makes use of the most sophisticated encryption security that makes hacks nearly impossible. Deposits and withdrawals at online casinos are also made through secure payment platforms such as Paypal, Bitcoin and E-wallets, which means that the odds of this being compromised by fraudsters is exceedingly low. As a result of the above, we can confidently state that playing online scratch card games at online casinos is a practically risk-free and incredibly a thrilling undertaking.
License and Registration – Before signing up at any online casino and playing the latest online scratch card games, players are enjoined to check if the casino is actually licensed. While this is easy to overlook, the fact is that there are a small number of unlicensed casinos whose operations are all shades of shady. These unlicensed casinos should, of course, be avoided. While it is assuredly important that a casino is fully licensed, it is also vital that its license gives it the power to operate in certain locales. This is because casinos are usually allowed to operate in some countries, but not in others. Thus, finding out if a particular casino is legally permitted to operate in one's country of residence, before actually registering at such a casino is of vital importance.
Addictive Scratching – Some are of the opinion that online scratch cards are addictive, while others think that is simply not possible. However, worth bearing in mind is that all casino games make it possible for the players to invest a small amount of money so as to potentially earn a considerable payout. This in itself is addictive by default. Online scratch cards can be played anytime and anywhere, with just a smartphone and data being required for gameplay. This makes online scratch cards potentially addictive. There is thus a need for players of all stripes to be alert for this.
Online scratch cards make for the simplest possible gameplay and are incredibly thrilling. There are lots of ways to make online scratch card gameplay as fun and secure as can be, with this, of course, serving to enhance the appeal of what is already a very remarkable game.
Fortune Awaits At Fortune Mobile Casino!
The Fortune Mobile Casino is filled with the latest games and online scratch cards that hand out thrills with generous hands. This online casino aims to please and offers the most rewarding bonuses and promotions.
Play online scratch cards at Fortune Mobile Casino today! Hurry!