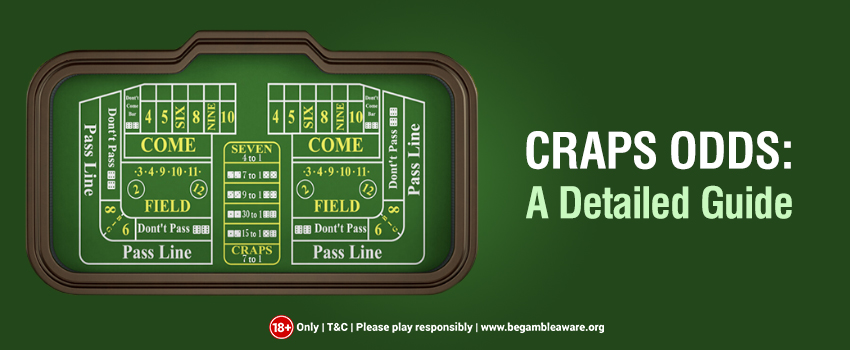 The craps game is one of the most confusing online casino games that casino players encounter in general. And among all the aspects of the craps system, the odds in craps, the bets, and the pace of the game are considered the most challenging to decipher, especially if you are a beginner. However, once you are knowledgeable about the game rules, the odds in craps, and the standard flow of the game, playing craps will be easy. 
What Is Craps?
Craps is one of the recognized games in online casinos, where a player (shooter) has to toss a set of dice, and the remaining bettors on the table have to estimate the outcome of the rolling dice. 
To play this game of chance, you need to place a stake on your preferred bet, where each one of the bets is discrete and holds various odds. Moreover, the Craps game is also the casino game that lasts the longest. 
What Are The Odds In Craps?
If you have come across the Craps game, you probably have seen the odds in craps as well. But what exactly are these odds in craps? To put it in simple terms for you, odds in craps are a side bet, which is placed by players after a point is tossed. However, it cannot be placed immediately. Players need to create a standard bet, such as a Pass Line bet or Don't Pass bet before placing the odds in one of these stakes.
Types Of Odds In Craps
There are two primary kinds of odds in craps, namely True Odds and Payout Odds.
True odds in craps symbolize the likelihood of winning a certain bet without any modifiers. For instance, if True Odds are portrayed as 3 to 1 or 3/1, it indicates that out of the four probabilities, a player should expect to fail three times every time they win once. Rather than the probabilities of winning,
Payout Odds or House Odds In Craps
Payout odds in craps are a mixture of house edge and true odds, and they usually range from 1:1 to 30:1. For instance, you have a 3:1 payout on a dice with six sides. To conceal all feasible options, you would have to place six €1 bets, which makes it a total of €6. Then, you will likely lose five, though the winning hand will deliver you €3, which will leave the house edge with €3.
Various Odds In Craps Bets
As mentioned earlier, the rules of craps are pretty simple but the payouts, odds, and bets can be confusing to many. However, once you learn them, playing this live casino game is fun. 
There are basically two major kinds of craps bets depending on the number of rolls of the dice— single-roll bets and multi-roll bets. 
Odds In Craps Betting For Multi-Roll Bets
As the title implies, multi-roll bets are stakes, which are placed on numerous dice rolls. This type of bet is the most common bet around, offering the most profitable payout of all odds. Let's take a look at some of the kinds of craps bets.
When you place any bets on the pass line bet, it is always going to payout even money— meaning, if you place €5, it will pay you €5, if you place €10, it will pay you €10, and so forth. In this bet, you have to predict that the shooter will land on either 11 or 7, and if they land on 12, 3, or 2, you lose the bet. In case another number rolls, then it becomes the 'point', which must be tossed again. When it comes to the game of craps, the Pass Line bet has the most profitable odds. 
Don't Pass Line Bets is the opposite of Pass Line Bets with a little change. When the shooter lands on either 11 or 7, you lose and they win. However, in case the shooter lands on 3 or 2, then you win, while 12 is regarded as a draw. If a point is created and tossed again, you lose, but if it lands a 7, you win. 
Apart from the above two bets for multi-roll bets, there are more kinds, such as Come, Don't Come, Odds Bet, Place Bet, Buy Bets, Big 6 and Big 8, Hardways, Fire Bet, and so on.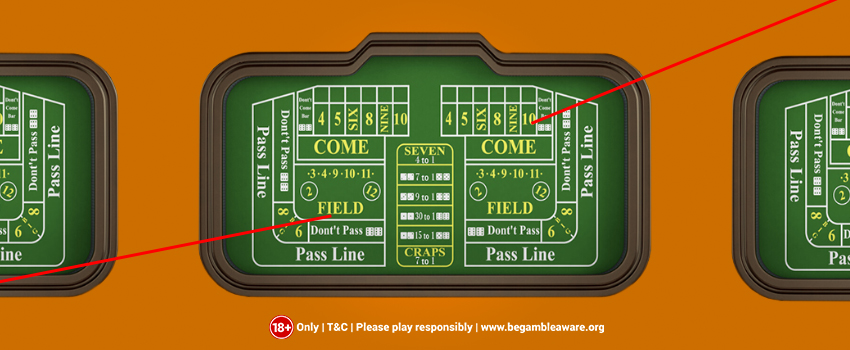 Odds In Craps Betting For Single-Roll Bets
Single-roll bets come in fewer kinds and are lesser known as compared to multi-roll bets. Further, the odds in craps are also lower in this bet variant.
A Field bet is always determines in the subsequent roll, and will win if you roll any of the following numbers— 2, 3, 4, 9, 10, 11, or 12 . On the other hand, you lose if you roll the following— 5, 6, 7, or 8. A Field bet payout 1:1 excluding 12 or 2. 
Any 7 bet is a single-roll bet where you place your stake on the possible outcome of a set number that appears 7 when combined. For instance, 6-1, 5-2, 4-3. This bet offers 6 methods to win and 30 methods to lose. 
To summarize all, odds in craps are easy to understand once you grasp the gist of it. Once you master the basic rules, craps is a fun game to play. There are many online casino UK sites like Fortune Mobile Casino where you can explore many live casino games like craps, online roulette, and online blackjack.