Must Listen to Golden Age Casino Songs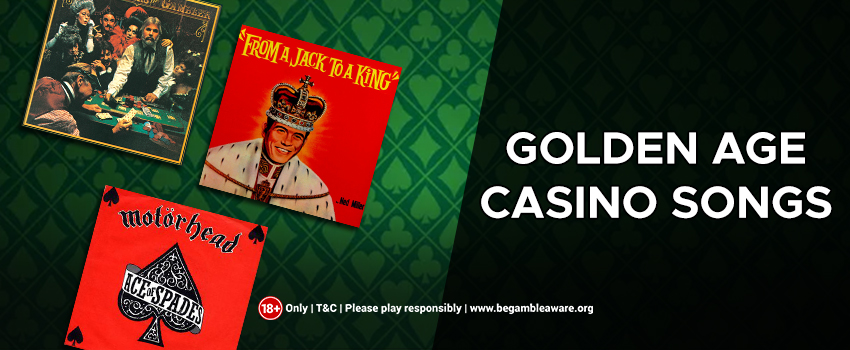 Gambling and music are the two things that have always gone hand in hand from the time they went mainstream. To date, several artists have released countless songs that have gambling as their central theme.
While several gambling-related songs come and go now and then, some have managed to stay relevant even today. So, here we present a list of must-listen casino songs from the golden age of gambling.
Ace of Spades
Released in October 1980, Ace of Spades is a casino-themed song by the British band Motörhead. It comes under the heavy metal genre and is considered one of the best gambling-inspired songs ever written. In fact, in a 2019 survey conducted by PokerStars, it beat several popular casino songs to become the best casino hit of all time.
If you look at the lyrics of Ace of Spades, you can find several cards and dice game-related terms. This means it can be a perfect song to play in the background when playing craps or trying your hands at online Roulette and online Blackjack games. Speaking about its commercial success, Ace of Spades spent more than three months in the UK single charts and has sold hundreds of thousands of copies to date. Besides, Rolling Stone placed it at number 442 in its list of the top 500 best songs of all time.
The Gambler
The Gambler is another great casino-related song that has received numerous accolades from all parts of society. While Country Legend Kenny Rogers has given his voice to The Gambler, it was originally written by Don Schlitz two years before its debut in 1978.  
The Gambler narrates the conversation that some strangers have on Poker while travelling on a train. Interestingly, the writer of the song isn't a fan of gambling; he used the lyrics as a metaphor to explain life and its different aspects. Soon after its release, The Gambler gained the top spot on the Billboard US Hot Country Songs and settled on the third position on the Easy Listening Chart.
The Lottery Song
The Lottery Song is also a casino classic that was released during the golden age of casinos. Written and sung by American songwriter Harry Nilsson, the song is a part of the RCA Albums Collection.
The Lottery Song goes on to tell the story of a couple who wants to gamble on a lottery ticket. Their hope is that the lottery ticket would give them enough cash to visit Las Vegas and have a fun time there. While lottery players may relate a bit more to the lyrics of The Lottery Song, its charming music is sure to make your next live casino session more pleasant.
From a Jack to a King
From a Jack to a King is a country music single by artist Ned Miller, who is also the writer of other popular country songs like Lights in the Street, Gypsy and Cold Grey Bars. Interestingly, the original version of From a Jack to a King, which was both recorded and released in 1957, wasn't able to garner much attention.
However, when the song was re-released in 1962, it went on to become an instant hit. It was in the top 10 songs on the Billboard US pop, country and adult contemporary charts. To date, several singers have covered this classic on their albums, including the likes of Ray Dylan, Elvis Presley and Bill Anderson.
Rambling, Gambling Willie
In 2016, American songwriter Bob Dylan received the Nobel Prize in Literature for his contribution to new poetic expressions in the American song tradition. So, it's no surprise that Dylan has given several traditional folk music hits to the world. And one of them is Rambling, Gambling Willie.
In this song, Dylan tells that Willie is an adventurer who travels to various towns in America to try his luck at casino table games. For a brief period, lady luck is by Willie's side, and he wins massive amounts at casino tables. Unfortunately, the winnings happen to take over Willie, and he keeps betting ferociously – only to lose all his money. This song tells casino players they should take calculated risks when gambling in a land-based venue or at a top mobile casino.