Know About the History of Roulette Game
Every day thousands of people play Online Roulette games. Ironically, not many players actually know or care about the history of this timeless casino table game. However, like all things in life, you are better of knowing as much as you can about something than knowing next to nothing about it. This also applies to the game of Roulette. This game has a rich history that would make all players sit up and appreciate the game better. Hopefully, by knowing more about this game, you would take it more seriously and play with a better appreciation for the game. This article provides a brief history of the game of Roulette, enjoy reading!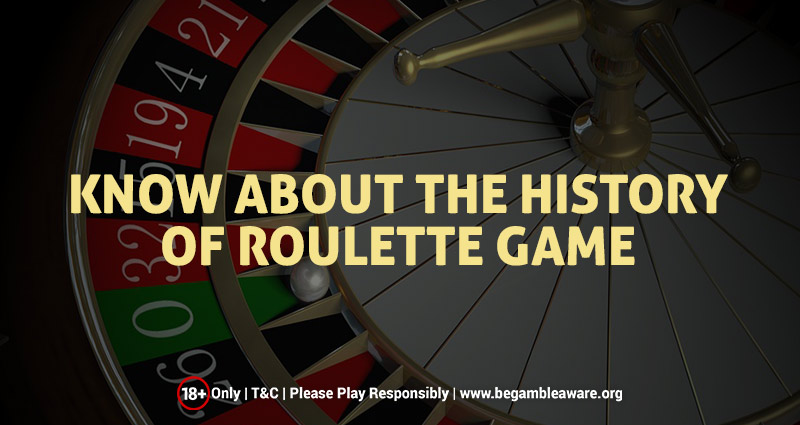 Roulette – A 17th Century Invention
Blaise Pascal was a French mathematician, physicist and inventor. Back in 1655, he tried inventing a perpetual motion device which is one that would function indefinitely without the need for any source of functioning power. Blaise Pascal actually failed in developing this device, but in his failure, he set in motion the creation of a timeless game known as Roulette. A game that would outlive him and eventually evolve into the Online Roulette game that everyone seems to love.
Early records show that the game of Roulette became a favourite past time in Paris way back in the late 18th century. Back then, the Roulette wheel was believed to have a single as well as double zero. However, in the year 1843, a Roulette wheel featuring just a single zero was created by a couple of Frenchmen. The purpose of creating a Roulette wheel with a single zero was to enable land-based casinos to gain more business since the single zero offered a house edge that was lower than that offered by the Roulette wheels with both the single and double zero.
America Embraces The Roulette Game
The French immigrants that moved to America were influenced in transforming New Orleans into a gambling city in the late 18th century. New Orleans gained the reputation of being America's gambling capital back then with the game of Roulette taking centre stage. In those days, the Roulette tables were slightly different.
The table had 28 numbers with a couple of zeros as well as the American Eagle emblem on it. This is in stark contrast to today's American Online Roulette game which has 38 numbers and also includes a single and double zero. In the old days, the American Eagle emblem was responsible for raising the house edge to an alarming high of 12.9%.
In no time, this symbol was removed as Americans were not exactly happy with the high house edge. However, the European casino Roulette games have a single zero. The American Roulette has a Roulette wheel with also double zeros because the casinos in America back then were eager for a much better house edge. It is no wonder that even today, the European Roulette variant attracts a higher demand than American Roulette because of the lower house edge offered by the former.
1996: The Year Online Roulette Is Born

The first Online Roulette was launched in 1996. Since then, there has been a steady rise in the number of people that sign up with online casinos to play virtual Roulette games. The beauty of playing Roulette online cannot be overemphasised. To begin with, it offers players comfort and convenience. Secondly, it offers players cost-saving advantages. Thirdly, players have a wider variety of Online Roulette games to play. From American to European and then, to French Roulette, players can choose from a number of different Roulette games on offer by the online casino they are signed up with.
Play Online Roulette Games On Fortune Mobile Casino

Fortune Mobile Casino was founded on the 17th of May, 2019. This online casino offers instant play, web, mobile, Flash and lives dealer casino games. What's more? The Online Roulette games on this sited are provided by some of the industry's leading software providers such as NYX Interactive, Nektan, Microgaming and NetEnt. Players also have a variety of banking options available including Pay via Phone options like Boku, there is also Neteller, Maestro and PayPal available. Fortune Mobile Casino has a daily withdrawal limit of £5,000 for UK players only. This casino also offers Live Chat, email (fortunemobile.s[email protected]) and phone call (+4420-3931-8452) support.