How Bingo Games are increasing its Popularity?
Bingo is a game of probability, played in a licensed casino or an online licensed site (live casino), in which players mark off numbers on cards as the numbers are drawn randomly by a caller, the winner being the first person to mark off all their numbers.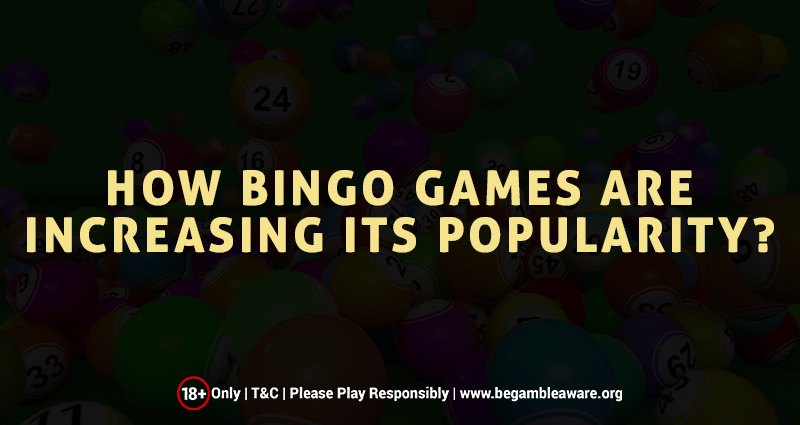 Online bingo has seen significant growth in recent years. The UK is the world's largest single online bingo market, estimated at €14 billion of gross gaming revenue (GGR) in 2018.
In this article, we will take a look at the online bingo industry and its increasing popularity in live casinos.
Online Bingo has perceived benefits
Online forms of gambling (slots, roulette, bingo etc.) have many perceived benefits for both novice and regular gamblers. They provide an easy commencement for the beginner where they can play for free money until they have developed the experience and confidence to use real money. In addition, online bingo is perceived as a good value and it is highly entertaining. Live casinos offer social contact and a sense of community, reduce seclusion and boredom and offer release from the stresses of family life. The proportion of the number of people experiencing serious losses through online bingo is very low. These features add up to a potentially highly engaging experience and have increased the popularity of online bingo in recent years. If you want to play online bingo with real money, Fortune Mobile Casino can be a great platform to start with.
The future of Online Bingo
The online bingo industry has grown a great deal over the last decade. The bingo industry continues to add millions of new players every year. In the UK, women dominate the online bingo game with about 77% of players.
One of the reasons for a rise in online bingo vs. traditional bingo is the convenience and speed of the game. Figures have shown that 66% of bingo players used a mobile phone to take part in 2017.
With a growing trend of players using predominantly mobile devices to play online bingo, there has been an increase in the number of bingo apps now available. In 2017, gambling apps became available on various app stores, making it much easier for consumers with a mobile phone to access online bingo. In 2017, there were just 12% of players using an app, this figure rose to 17.5% by 2018. This shift from using a web browser to app-based games can see yet more competition in the online bingo market in the coming future.
The best platform for Online Bingo
With a vast array of bingo websites available, it may be difficult for the players to choose which provider to go with. One way of tackling this issue is by registering at the Fortune Mobile Casino. They provide the best gaming experience by offering an extravagant set of mobile games like slots games Roulette, online bingo and many more. Fortune Mobile Casino is one of the best online mobile casino sites in the industry.