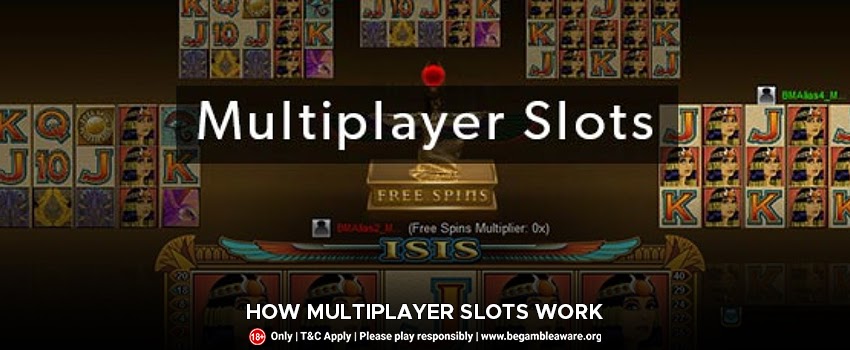 There are many casino slot games available, with many themes and thousands of options. Multiplayer slot games are a new type of slot game that many people have never heard of.
Slots have evolved over the years to meet the demands of modern times. They now offer new features, better graphics, and more ways to win. How does multiplayer slot technology fit in with this evolution? How is it possible to play multiplayer online slots? Let's learn more about these games.
What is a Multiplayer Slot?
The title is the clue. Multiplayer slots (sometimes called community slots) are games that can be played simultaneously by several people. However, it is not as simple as it sounds. Multiplayer slots allow you to play certain sections of the game alone and share bonus features. Isn't it impossible to access the same game from different locations? It's not as easy as visiting your neighbor and sitting at the same computer.
Instead, you'll play in a virtual slot room that also includes other players. Chatting with other players is possible while you play the slot. You can also see the spins of other gamers and their winnings. If you all trigger the bonus round, you can all take part in it together. You have the opportunity to share in the bonus jackpots.
What is the operation of a multiplayer slot machine?
Multiplayer is, in general, a term that allows you to play with multiple people at once. However, in this case, we are referring to various games simultaneously. You won't be confused because the gameplay is linked to several, often identical slots. Therefore, you can quickly switch between the different gameplays by simply navigating to one slot.
Although it may seem confusing at first, you soon learn how things work. This concept allows you to play multiple games simultaneously, which increases your chances of winning lots of money. However, it can also make you lose money more quickly.
What is the secret to this? You can switch between games much quicker and don't have to wait for the round on slot A to complete your bets. Now you can divide the amount you would generally wager on one game over 2, 3, or 4 slots.
If you're on the winning side, this can make you a lot of cash in a brief period. However, you can also lose a lot of money quickly for the same amount. This is something to keep in mind when you choose your bankroll. You will need a larger bankroll to play multiplayer slots machines for more extended periods.
The multiplayer game can be quite fast, so you need to survive for X amount of rounds. Therefore, it is recommended that you only play multiplayer slots if you are familiar with the game and how it works.
Game Rules
You must first enter a virtual slot room to start a game. It can usually accommodate up to six people. Everyone can see each other's screens. You can have a chat with other slot players, share your feelings, express empathy, celebrate wins, and discuss payouts. This creates a friendly and pleasant environment.
Multiplayer slots also offer a variety of exciting features, such as collective bonuses. They are often multiplayer free games. If a user creates a combination of special symbols, it triggers the free spins feature. Thus, all players in the room have an opportunity to receive collective free spins.
The same applies to bonus rounds, where all users can participate and win bonus Jackpots together. Each user creates a virtual room with friends. They then enter the room to begin playing. Anyone can join the system to join the multiplayer virtual space. New players can instantly start playing, chat with other gamers, and make new friends who share similar interests.
Multi-Player Online Slots aren't Tournaments.
We demonstrate the differences between multiplayer slots and tournaments that involve multiple users. Both types of gambling allow the player to compete against other online gamers. However, both are based on different principles.
Online Slot Tournaments:
The player plays against other players. The whole idea of a tournament is that only one player becomes a winner. So every player strives to win over their rivals. Multiplayer online slot players play in the virtual team. All of them win. The game encourages people to communicate and gives them a lot of pleasant impressions.
Examples of Multiplayer Slots
We have gathered a variety of Microgaming slot machines. These slots are certified and of high quality. Each game can also be integrated into an online casino via an operator.
The Wheel of Wealth
Wheel of Wealth allows players to dive into the rich world of retro classics. It offers a unique experience and the chance to make a vast gain despite only having three reels and just one pay line.
The reels show the classic Bar symbol, number 7, and cherry. Then, randomly, the bonus symbol activates. It happens randomly, and all players in the room select a place on The Wheel of Wealth. As the wheel stops, they receive a guaranteed bonus.
The retro-inspired Wheel Of Wealth style, along with symbols and sounds, takes the player back in history. People who enjoy having a good time with good friends are highly interested in this slot.
Certain Win
The world of horse racing-inspired this slot game. The game takes place at a horse track that is crowded with horse racing fans and viewers. This video slot is full of cartoonish graphics and loud cheerleaders.
Sure win is a 5×3 slot that has 25 winning lines. In addition, this slot offers bonus rounds, free spins, and a risk game. This amazing multiplayer slot will provide the ultimate gaming experience for its players.
Terminator 2
This video slot, based on the science-fiction movie Terminator 2, has the best Microgaming traditions: quality, fairness, and excitement. After being released, slots based on movies are trendy. This is not an exception.
Terminator 2 has a 5×3 standard design that offers 1024 winning lines. The game offers a high RTP of 96.62% and a variety of bonus features that can increase your chances of winning. These include Scatter and Wild as well as T-800 Vision. This feature randomly launches a special mode from any position that is not profitable.
Centre Court
A slot machine that is sport-themed. Court tennis is the theme of this 5-reel, 9-pay line slot machine. The winnings are increased by Multiplier and Wild, as well as Scatter and bonus rounds. Centre Court also offers a risk game that doubles the prize. You must form a winning combination with special symbols to activate this feature.
The video slot features a captivating plot that includes sports competitions, vibrant visuals, and great soundtracks. The intuitive, multifunctional control panel makes it easy to play with and very interesting.
Conclusion
The Microgaming software developer hosts regular tournaments that offer huge jackpots. In addition, this tournament platform allows teams to compete simultaneously, opening new opportunities and formats for online gambling casinos. Is this multiplayer slots guide helpful for you or not? Let us know in the comment section below.