What is Inside and Outside Online Roulette Betting Odds
If you have ever played in a real casino or an online game, then, you must have probably come across the terms "Inside bet" and "Outside bet" in the game of Roulette. Although most casino game sites have clear directions as to what is the inside and the outside of the betting table, still some users don't have any clue how these two terms can create a huge difference in their gambling session.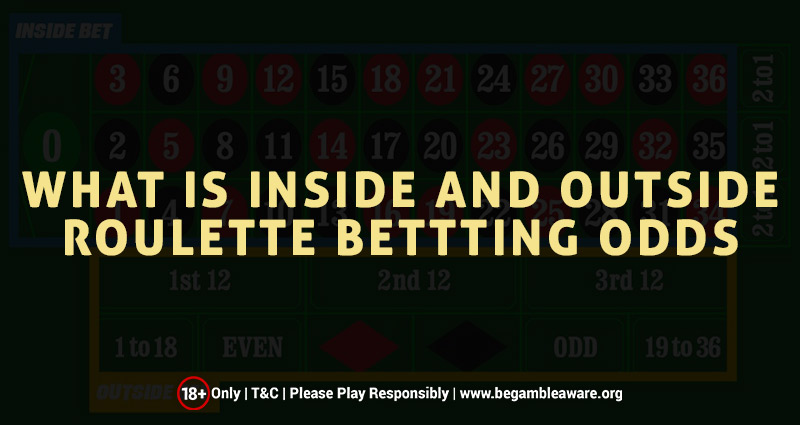 If you are one of them, sit back, relax and keep reading as we unveil the mystery behind the most talked terms of online Roulette. Decide what betting style suits you and conquer the Roulette table.
Inside bets
Inside bets refer to all the possible bets you can place located on the inner section of the table. Though the online roulette Inside bets offer bigger returns, you have a fairly low chance of winning. This betting style appeals to those who have a large bankroll and like to take a high risk while gambling.
There are six different types of "inside bets".
Straight-up – As the name sounds, it is the most common Inside bet wherein you can place your bet on any one number. You win the bet if the ball lands on your number. 
Split bet – Bets are placed at the same time on two adjoining numbers. It has 18:1 odds of hitting and pays 17:1.
Street bet – Bets are placed on all three numbers that lie on a single horizontal line. It has 11.66667 odds against hitting and a payout of 11:1.
Trio bet – The trio bet applies for the combinations 0-1-2 or 00-2-3.
Corner bet – With 8.5:1 chance of hitting, it pays 8:1, the corner bet is placed at the same time, on four different numbers.
Six Line bet – Similar to the Street bet, the bets are placed on six numbers or two adjoining Street bets at one time. With better odds, it has a 5.33:1 chance of hitting and paying the winner 5:1.
Outside bets
Outside bets offer lower payout but with a higher chance of winning.
A Roulette Outside bet is available in the range of red or black, odd or even, 1-18 or 19-36. Each of them gives an even money return with a 50% chance of winning minus the house edge. If you are new to Online Roulette or like to play long sessions, then, this betting style is for you.
The six different types of "Outside bets" have a 1.111:1 chance of hitting and pay 1:1 when they do.
1 to 18 – You set your bet on the numbers 1 through 18. 
19 to 36 – You place your bet on the numbers 19 through 36. 
Red or Black – Most commonly used, bets are placed on a black or red number.
Even or Odd – Bets are placed on the number being either even or odd. 
Dozen bets – Bets are placed on one of the three possibilities: 1-12, 13-24 or 25-36. 
Column bets –  Bets are set on any of the three vertical lines.