Lightning Roulette: Rules, strategy, odds and the house edge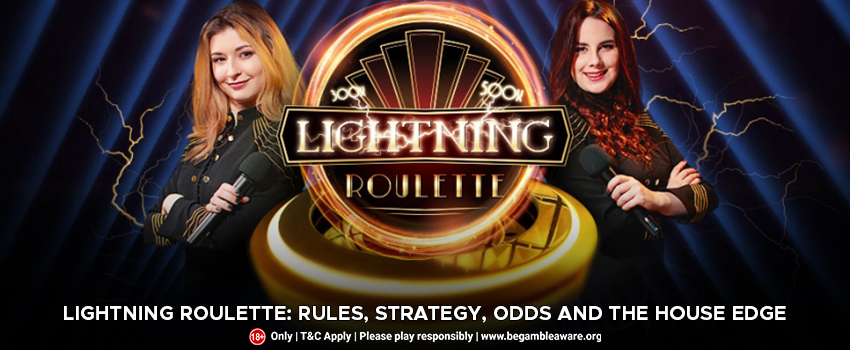 Roulette has been one of the most beloved casino games, but modern technology and smart thinking have given it a thrilling new twist. First Person Lightning Roulette introduces a new and exciting virtual reality element for the game, providing the possibility of huge jackpots for players.
When you start playing this game, you may be tempted to think Lightning Roulette is like Evolution Gaming's live dealer studio roulette games. 
The table is where you can place bets, an enthralling live host, and a roulette wheel. However, that's where the similarities end because Lucky Numbers and Lucky Payouts also come into the game, and the studio has a stunning black and gold-coloured scheme.
Lightning Roulette Rules
Lightning Roulette, which is available on Casino, is based on the normal rules of roulette that allow you to place your bets the traditional way, with straight-up numbers, lines black or red, and other bets that generate excitement with every spin. 
When the bets are closed and the ball has stopped, the host pulls a lever, and the studio wall shows up to five roulette numbers that are each accompanied by a random multiplier.
If you've placed an unintentional bet on one of these numbers and it comes in, you will get your stake, multiplied with the multiplier randomly chosen. Multipliers:
50x

100x

200x

300x

400x

500x
Lucky Numbers and Lucky Payouts are highlighted in the betting section. If you choose the Lucky Number, the excitement increases to new heights as there is a chance of getting huge payouts.
Let's suppose you place an initial bet of $10 on the number 27. After the bets have ended, 27 appears as the Lucky Number. It also comes with a staggering 500x Lucky Payout. The excitement is turned into joy as the ball rests inside the 27 pockets of the Roulette wheel. 
You'll get $10 multiplied by 500, which equals an astounding $5,000! The game is swift and fun, and stunning graphics and sound accompany it.
Odds
The Lucky Numbers and Payouts component that comes with this Roulette means they will likely give substantial extra cash payouts. There has to be a reason that is apparent in the lower odds of straight-up bets.
Typically, if you succeed with a straight-up bet, you will receive the payout at 35:1. In this roulette, that payout is decreased to 30:1. The additional money the casino retains can be used to pay the huge Lucky Number payouts.
Other bets upon the Lightning Roulette board retain the same odds and payouts and odds as the standard roulette game. In terms of an edge on the table, it is approximately 2.9 percent, which means that for each $100 bet, you can expect to lose $2.90. 
Lightning Roulette strategy
Do you want to hit gold on this roulette? Here are some efficient tips that will assist you:
Learn some basic Lightning Roulette strategies
Like any other game at a casino, This Roulette has some successful techniques tested, evaluated, and tested by Roulette experts.
Paroli System –

The Paroli method is among the most basic roulette strategies you can use in your play. The Paroli system employs the Martingale strategy, where you need to double down your bets when you succeed. 

Labouchere strategy –

Originally from France, it is not required to utilize one of the lucky numbers to use this method. To get the maximum benefit from the Labouchere technique, it is necessary to split your chips in a particular order. First, lay your chips out on either two or one line. Make use of the first and the last numbers on the lines to decide what amount you'll place bets on. The numbers you will need are 6, 8, 4, 2, and 2. The goal of the Labouchere strategy is to ensure that all bets that you make are placed in even numbers until you've completed the game. The main takeaway from this method is to concentrate on placing bets with a minimum 50% chance of succeeding.
Find the lucky numbers and Lightning Roulette payouts
Lightning Roulette gives you a variety of bet options, as does European Roulette. It is also possible to be lucky when you come across Lucky Numbers or Lucky Payouts.
Each round with this roulette features numbers from 1 to 5. The numbers may be randomly struck by lightning. When this happens, the lucky numbers may multiply. The initial multiplier is 50x, 100x 200x 300x, 400x, or 500x!
Conclusion
First Person Lightning Roulette is one of the most exciting studio games that you'll come across. If you haven't registered, sign up for an account, deposit your first amount and take advantage of the welcome bonus. Best of luck! Next, locate Lightning Roulette and get started.
FAQ:
Does Roulette feature RNG?
Yes. This is to make sure that there is no chance that rigging can occur during the game. The wheel of Roulette is frequently examined and maintained to make sure that the game is fair.
In addition, the ball that is used in this game will also be inspected to make sure it conforms to the dimensions and weight that game regulators set.
What are the top strategies for Lightning Roulette?
There isn't a specific method that will guarantee you succeed when playing Roulette. There are, however, established strategies you can apply to increase the odds. Some of the most well-known strategies used by players with experience include Voisins Labouchere, Voisins, and Martingale.