Live Dealer Casino Etiquette
You can enjoy playing your favourite live casino games by simply logging into your casino account without getting dressed or knowing the rules. The software used by online casinos automatically prevents you from making any illegal bets from distracting other players.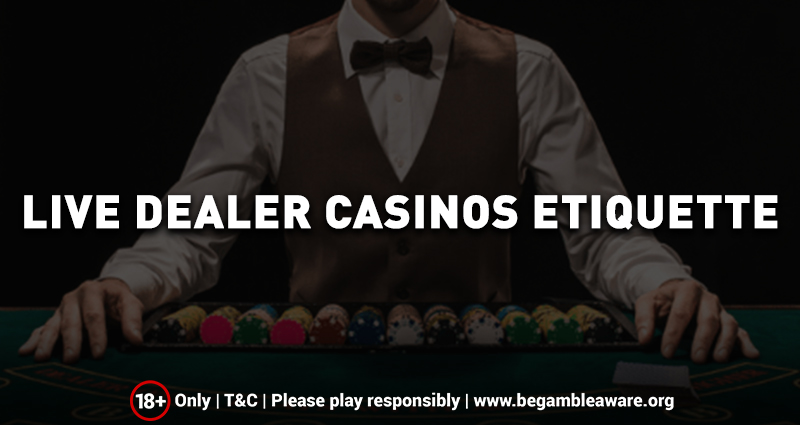 On the other hand, the live casino can be somewhat overwhelming to new players. Hence, it is important to get familiar with live dealer casino etiquette before placing your bets.
Follow the tips in this blog post to ensure you're on your best behaviour at live casinos.
Know the rules of the game
You must know the rules of the game before wagering at a live dealer casino. It would be best to try automated table games if you are unsure about how a game is played at an online casino. This provides you with the opportunity to gamble at your own pace or to try them out for free.
Live casino dealers will explain you the table games if they are not busy. Most live casinos do offer tutorials, lessons or pamphlets that explain each game.
Taking your seat
Tables have maximum and minimum bets which are printed on them. Make sure you find a table that fits your budget. You shouldn't take a seat at the table if you are not playing. Seats are reserved for players and you may be asked to leave immediately or when a seat is required.
A rail is featured at crap tables instead of chairs. Maintain some distance from the rail if you aren't gambling and don't interfere with the shooter.
Money matters
You will need money if you want to play casino games like online slots, Blackjack and scratch cards. Wait until the current hand is over before buying chips. Ask the dealer for chips and you can request any available denomination of chips.
Keep in mind that croupiers are not allowed to take money out of your hands so put cash on the table. Don't touch your bet until you win and get paid.
Table etiquette
You deal with the croupier and other players while playing live dealer games. Don't insult other players as they are also there to have fun and win some money. You must find a new table if you don't like your results at your current table. Using your mobile to talk, message or surf the web is usually not allowed and always frowned upon at the tables.
Don't ask the croupier for advice unless you are playing Pai Gow. Touching face cards is not allowed and players are free to leave the table whenever they want. You can have a couple of drinks if you want but make sure you're in control. Drinking too much can lead to poor decisions of rebuking live croupiers and other players.
Even if you have had a bad session, there is no reason to take it out on the croupier or customer support staff. Customer support can also provide you with additional bonuses as a gesture of goodwill.