Online Blackjack Card Counting Strategy In 2019
Card counting in blackjack has come to stay. This is one advantage gaming strategy that has made many people rich from playing the game of blackjack in casinos all over the world. You should know that card counting is only effective with casino card games which are purely games of chance, such as; roulette or craps.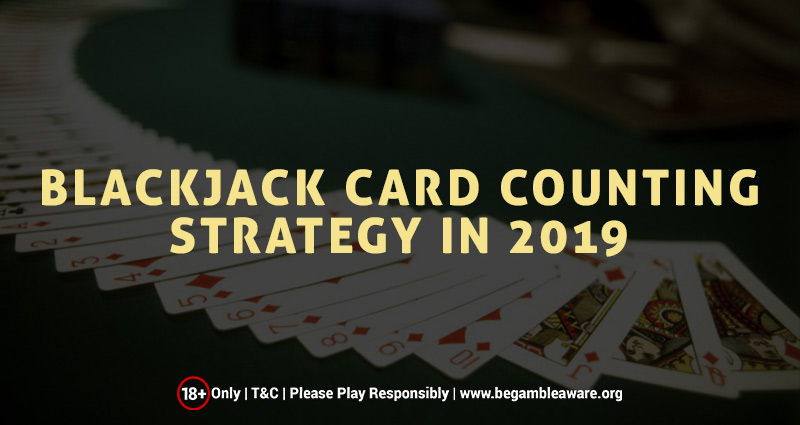 The reason why card counting is so proficient in a blackjack game is because of the changes in probabilities when the cards are dealt out of the 52 standard card deck used in a single-deck blackjack game for example. So whether you are playing Online Blackjack or paying a Las Vegas type casino a visit for a game or two, implementing card counting techniques could be the difference in your success or otherwise. 
Start By Knowing The High And Low-Value Cards
Card counting involves grouping cards into either high or low cards. If a deck comprises of more high cards than low cards, players would naturally have a higher chance of getting a blackjack. Blackjack is easily earned with the combination of an Ace and 10 cards in a 'hand' comprising of two cards. 
Many Online Blackjack games offer a 3 to 2 payout for a blackjack while many others also offer a payout of 6 to 5. Try to stay clear of blackjack games offering a payout of 6 to 5 as you will earn less than blackjack games offering payouts offering 3 to 2. If you make a £50 wager, you will earn £60 on a 6 to 5 payout while you will earn £75 on a 3 to 2 payout. 
Low cards comprise of 2, 3, 4, 5 as well as 6 when it comes to implementing many strategies in card counting. Once you have an idea of the number of high-value playing cards to the low-value ones in a deck, it would influence the size of your wager as well as game strategies as you seek to get one over the house.
Ace to Five Count In Single-deck Online Blackjack
One card counting strategy you could use in both land and Online Blackjack is known as 'Ace to Five'. This is regarded as one of the easier methods of card counting which track just a couple of playing cards. Aces will count as a negative (-1) while the 5s will count as a positive (+1). 
This land or Online Blackjack card counting strategy is pretty effective when your 'betting spread' is large. When you have a positive count, your initial wager should be raised by 2x. So rather than having a 1 to 6 'betting spread', you could have anywhere from a 1:16 to 1:32 unit 'betting spread'. This card counting strategy can help give you a little edge over the house.
Other Card Counting Strategies 
– Red 7 Card Counting Strategy: Here Red 7s are counted only. There would not be any need to count Black 7s. This Online Blackjack or land casino blackjack card counting strategy also dismisses any reason to turn the 'running count' to one that is 'true'. 
– K to O Card Counting Strategy: In a multiple-deck land or Online Blackjack game, card counters can make use of the K to O card counting strategy. Here they would not need to turn a 'running count' so that it becomes one that is 'true'.
– Omega II Card Counting Strategy: Here you have a side card count comprising of Aces. Also, the 9s and 10s will make up part of the card counters primary count. The 9s have a negative value (-1) while the 10s also have a negative value of (-2). One-half of the low-value cards have a positive value of (+1) and the concluding half of the low-value cards will have a positive value of (+2). Making this card counting strategy a two-staged system. 
Play Online Blackjack At Fortune Mobile Casino
Fortune Mobile Casino was established in 2019 and it is owned by Nektan Limited Casinos. This online casino is licensed by both the Gambling Commission and the government of Gibraltar. What's more, top software developers such as Microgaming, Yggdrasil Gaming and NetEnt have many of their virtual casino games on show on this casino. You can also get to play different Online Blackjack games on this site when you sign up with them.