How Online Casino Is Different From Live Casino
The online casino as the name suggests makes it crystal clear that they are operated off the web. That is, patrons of such casinos are not obliged to go to a physical location so as to be able to access the services of such casinos. Instead, online casino patrons are able to log into such casinos via their Internet-connected smartphones and PC.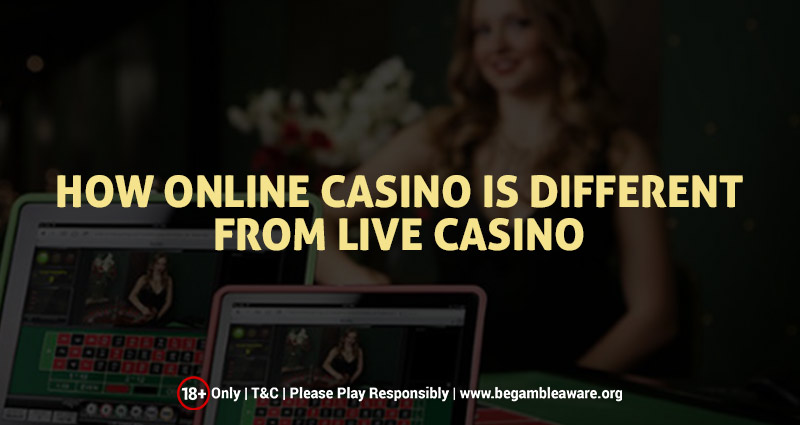 Live casinos, on the other hand, are a totally different kettle of fish. Such casinos were a gambling staple back when online casinos were not yet invented. The live casino operates from within a casino studio and has large staff numbers and is usually festooned with colorful lights.
Numerous examples of live casinos can be seen in Vegas, Macau and the UK. Such live casinos offer their services to all who pass through their doors. Online casinos, in contrast, do not require gamblers to be physically present anywhere. Instead, they can access any online casino of their choice from their bedroom, kitchen, at church, work or anywhere else, using their Internet-enabled device.
Read on for more differences between a live casino and an online casino.
The pros and cons of online and live casinos
The more notable differences between a live casino and an online casino are as follows:
Free Play – Online casino users can practice their skills through free play. This free play makes it possible for most casino games and slots to be played for free online and enables players to hone their skills and gain experience. Free play is however usually not possible in most live casinos, with real money play being supported in a large majority of cases. But there are only a handful of live casinos where you can play live games for free.

Range Of Games – The range of games in online casinos are simply far more than any live casinos can match. Live casinos due to space constraints cannot host as many games as they would like. Thus, they tend to offer a choice selection of the most popular games and hope for the best. As size constraints do not apply to online casinos, it is not unusual to find these types of casinos offering hundreds of different games. Some even have a thousand or so games, among which are online slot games of all types, as well as bingo, scratch cards, keno, Wheel of Fortune and lots more.

Better Odds + Payouts – Online casinos are very cheap to run. They have a considerable cost advantage over live casinos. Due to this cost advantage, they are able to offer the most sumptuous bonuses and promos. Live casinos, in contrast, are quite expensive to run. Such casinos have lots of staff whose expenses must be paid. Then there's rent, property tax, federal and state taxes, liquor taxes and more. Due to these expenses, online casinos are far more profitable to operate than live casinos.

The Matter Of Convenience– Imagine playing Roulette, slot games, casino table games and more from a PC or mobile device. That is what online casinos make possible. Needless to say, it is incredibly convenient. Live casinos, on the other hand, are convenient in their own way. While they require patrons to dress up and visit an actual casino in an actual locale, they make available games of chance that can be seen, felt and touched Imagine playing Roulette in a live casino, as the gleaming Roulette wheel spins like the universe. More, the feel of having actual cards in the hand when playing table games in a live casino cannot be overstated.
Live casinos and online casinos do have some similarities and many differences. Regardless of which of the two is selected, gamblers of all stripes are still assured of having a rather awesome time when playing a casino game or two.
Fortune Made Easy At Fortune Mobile Casino
When original games, excellently trained staff, and profuse bonuses are called for, only Fortune Mobile Casino hits the mind. Access this top-class online casino and play a host of exciting online casino games today!