Why Slot Games Are Becoming So Popular?
Back in the days when there were very few gamble houses available, play with slot games or fruit machines could be found at a barbershop or a popular street in Vegas. These were fun and quick games to win some exciting prizes. The one-armed bandits were a hot favourite in every casino worldwide then.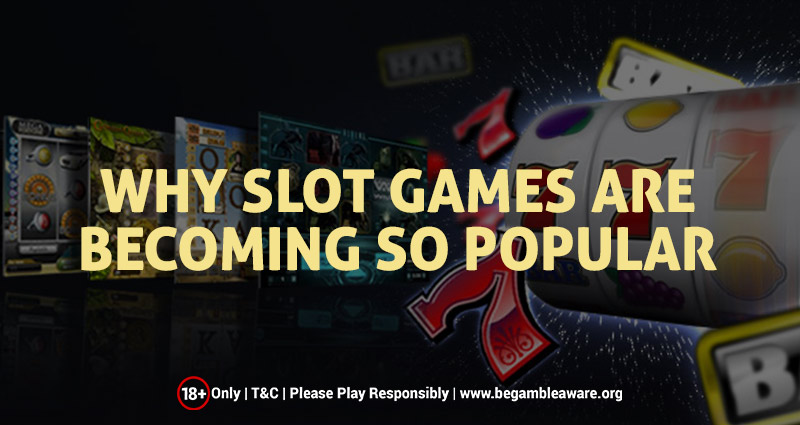 With the introduction of video slots in the 1990s, there was a whopping growth in popularity of these games. After a period of a halt in growth, there was a need for something revolutionary. It's when the internet knocked on the door of the gambling industry, today, the demand for these games is off the charts.
Reel Slots
These were the earliest version of slots. They were popularly known as One-Armed Bandit or Fruit Machine. Nowadays, these are a rare find and serve as "classics" in the most reputed brick and mortar casinos.
The modern reel games have added features of Bonus rounds. Also, there are both 3-reel and 5-reel slots with a varying number of paylines. Increased value of payouts, jackpots games, and bonus rounds have really increased the demand for Reels by a good margin.
Cool Digi-Version of Slot Games
During the late '90s, video slot games were every gambler's favourite. These games were based on digital technology. Although the earlier versions had very low-quality graphics, they were a mega-hit in their time. Today, the popularity of digital slot games are increasing at a rapid pace.
With the advancement in technology, these machines have become real golden. The Video slots have introduced exciting theme-games to the gambling industry. With high-quality graphics and groovy music of legendary artists like Elvis Presley, Michael Jackson, Johnny Cash, Elton John, etc, these games attract more crowd than ever.
The wide range of themes varies from Fiction, Cartoon, Music, Science, History, Nature, etc. You can play as your favourite superhero characters like Superman, Captain America or you can play as ancient characters like Alexander the Great, Egyptian Pharaohs. Video slots deliver fantasy gaming experience.
Online Slot Games
The internet, without a doubt, is the primary reason for the unmatched growth of Slot Games. Online casinos provide all the amazing games on your desktop, and now even on mobiles. This helps slot games reaching out of land-based gamble houses to practically anywhere with a device and stable internet.
Earlier, all those players who could not afford the time or money to make a visit to the casino to take on some exciting slot gaming experience can now play all of their favourite games at homes. Online slots have increased player participation considerably. With more games on the go, the number of slot lovers is growing extensively.
Solo Action
Another reason why slot games are becoming so popular is that they are played solo. There is absolutely no need of other players which provides a more personal and engaging gaming experience to players. After all, who does not want to play their favourite fantasy character role to win some money?
Slot Fun with Fortune Mobile Casino
This vibrant casino brings the best of the slot gaming to your mobile. It is available for both Android and iOS devices. Play at Fortune Mobile Casino to enjoy a wide range of casino games with exciting bonus and jackpot offers. Hurry!