The vast array of Misinformation about Blackjack
Many Blackjack players believe the misinformation dispensed by dealers, casino owners, fellow players, and even our very own internet about the game of Blackjack. The policy in most casinos forbids dealers from advising players whether to hit, stand, double down, or pair split. This is for security reasons to prevent any possibility of a dealer and his player friend taking advantage of the casino. However, when novice players openly ask the dealer for advice, they usually respond with a suggested strategy. Often, it is an incorrect strategy.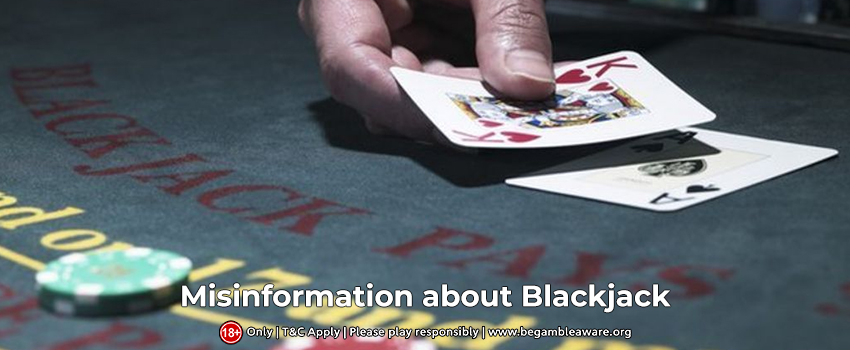 Many Blackjack players believe that if a person deals the game, that person must be an expert on how to play the hands. This, unfortunately, is also not true. Most dealers know very little about basic strategy and nothing about card counting. Dealers are not the only ones giving misinformation about Blackjack playing strategies. Newsletters found in the racks of casinos also offer so-called helpful hints for table game players from the grand institute of fun and games professor. On Blackjack the advice is:
Split 8s unless the dealer shows a ten-value card

Always split aces

Double down on two card combinations of 9,10,11

Do not take a hit on a possible bust hand (12 or higher) if the dealer's upcard is a 6 or less

If you lose more than five times in a row, move to a different table, do not fight the cards.
These are the first set of misinformation that you will come across when you start playing.
Then come the floor supervisors who sometimes look at the playing strategy card of players and then proceed to tell them that the strategy is all wrong. You can also be misguided by other players. So if someone starts telling you how to play your hands, you should simply tell that person that you know very well how to play your game. The point is you should never listen to the advice of a fellow player as to how to play your hands. Lastly, let us talk about Blackjack "advice" on the Internet. Though there is some very accurate information on the internet, there is also a ton of misinformation out there. Let us bust some of the other most believed misinformation about Blackjack:
1. Picture cards always follow picture cards
Some players will refuse to hit their stiff hands if they just saw a picture card come out of the shoe. The reason is that they believe a picture card always follows a picture card. That cannot be the case and the opposite is true, namely that once you see a picture card the chance that the next card will be a picture card has decreased. The reason is if you just saw a picture card there must be fewer of them in the unplayed deck of cards, meaning your chances of drawing another has decreased.
2. Always figure the dealer has a 10 in the hole
In a standard deck of 52 cards, there are 16 ten-valued cards (the four tens, jacks, queens, and kings). That leaves 36 non-ten-valued cards left in a deck. So roughly only 31% of the cards in a deck are "tens" and 69% are non-tens. There are roughly twice as many non-tens as tens, so it is more likely that the dealer will have a non-ten in the hole rather than a ten.
3. That third baseman will kill me
Many players believe the play of the third base player can bring down the entire table. Some honestly believe that the third base player should sacrifice his hand for the good of his fellow players. The reality is, it does not make any difference how your fellow players, including the third baseman, play their hands on your chances of winning or losing.
4. Do not mess with the order of the cards
Many players cringe when a new player enters a game in mid-shoe. Because the order of the cards that will be dealt to players changes and they believe that this works against the players. This, of course, does not hold any credibility. Nobody knows what the order of the cards is in the shoe and if a new player changes the order, it could help you as much as hurt you.
5. Press your luck
Many players who win two or three hands in a row will start increasing their bets to take advantage of their luck. But winning the previous two or three hands has no bearing on your chances of winning the next hand. The odds of winning any hand at Blackjack is roughly 42% regardless of how many hands you just won. So pressing your luck" might be a fun thing to do, but it is not going to win you more money in the long run.
To summarize
It is easy to follow the advice of your fellow players or even the dealer, and some of them may very well have good tips, but you should never do so blindly. Always research what you have been told and try to do the math. Blackjack is a game that relies on it and it can never be wrong no matter what your emotions tell you. Whenever you are a newcomer to any game at a casino it is quite natural for you to get a bit overwhelmed with all the crazy guides and tons of information provided by others. But the only way to get out of all of this and go in the right direction is by trying to learn the game yourself by practising more and more and following trusted guides by people who help others in learning the game. You can also take a break from Blackjack and try playing slots on online casinos. Playing slots does not require you to know or learn intricate strategies and there are a lot of slots options available for players in the online casino world.