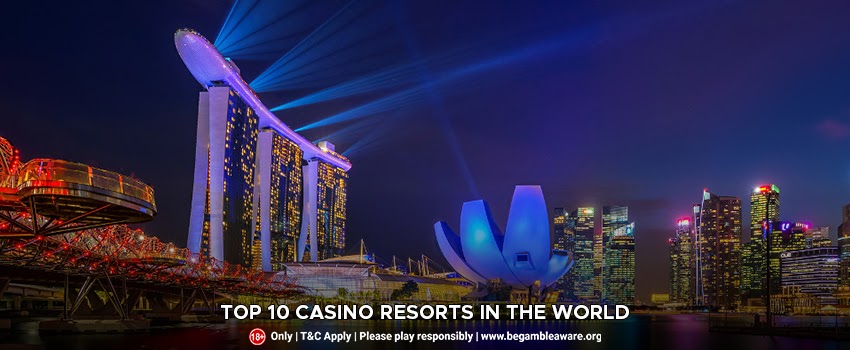 Every year, the casino industry moves billions of dollars, making it one of the few industries that continues to grow despite the passage of time. The characteristics that best describe the players; experiences in the Casino are glamor and luxury. As a result, physical casinos go to great lengths to ensure that their guests have the best possible experience. And those who don't usually play too, after all, it is always worth giving a chance for luck. But the casino resorts in the Top 10 go beyond the limits of gaming when it comes to entertainment. Who has not seen the stunning and intriguing atmosphere of a casino hotel in Hollywood movies? Below Are some of those casino hotels.
1. Foxwoods Resort Casino – Connecticut, USA
For over 25 years, Foxwoods Resort Casino has hosted thousands of visitors from all over the world. This Casino resort complex consists of hotels, restaurants, and more than six casinos, with a total area of 340 thousand square meters. The Casino has approximately 6,300 slot machines, over380 table games, and a bingo hall with over 5,000 seats, where singers and events are held. Although Foxwoods Resort was opened in the 1980s, the resort and Casino still speak to its modernity and charm. Foxwoods Resort has hosted more than 340 million people, and the numbers are increasing.
2. The Venetian Macao – Macau, China
  Macau, a former Portuguese colony, is now one of the most important casino destinations, even surpassing Las Vegas. This city is home to the world's largest Casino and the world's third-largest building, with 980 thousand square meters. The Venetian Macao, already known to casino lovers, is the result of an investment of more than $ 2.4 billion. This resort and Casino consist of around 3,000 luxurious suites, more than 30 restaurants with food from different countries, a swimming pool, gardens, and game areas. The Casino is divided into 4 themes and offers 3,400,000 slot machines and 800 table games for its guest
3. MGM Grand Casino – Las Vegas
MGM Grand is a hotel-casino that is known for being the world's third-largest hotel, with over 5,000 rooms. Important entertainment and sports events, such as boxing matches, MMA, UFC, Cirque Du Soleil, and performances by internationally renowned artists, take place at the MGM Grand Garden Area. The Casino has over 139 poker tables and other table games and over 2,500 slot machines, including progressive slot machines with millionaire payouts and video poker. Players can place bets ranging from a penny to a thousand dollars, ensuring that they have a lot of fun all night. In these casino resorts.
4. Bellagio – Las Vegas
Bellagio is a casino and hotel close to the popular Las Vegas. The hotel is considered one of the most luxurious in the United States, with more than 10,000 employees working in elegant attire. Professional players frequent the Casino due to the high stakes limits that can reach up to 8 thousand dollars. You should probably already know the Bellagio casino from the stage screens.
5. Casino-de-Charlevoix – Canada
The Casino built in a castle, in addition to a lot of fun, gives a show of artistic beauty. It has an artistic beauty, with a breath-taking landscape. The Casino honors its privileged location: it is excellent for poker games, has blackjack, roulette, mini-baccarat, and 800 slot machines.
6. Caesars Palace – Las Vegas, United States
The Casino offers more than 1,324 slot machines, video slots, video poker, and progressive slots for game lovers. More than 185 game tables are also offered, including poker, baccarat, dice, 3-card poker, and many others. Poker players can play at 16 tables with free WIFI and USB input on each seat and participate in the daily casino tournaments.
7. Baden-Baden – Germany
Baden-Baden is proof that size is not a document! As luxurious as the others listed and unique beauty, the Casino is located in Germany, a famous SPA region, and rich historical culture. If you are a poker fan, this is one of the best casinos. But of course, that's not all; blackjack and roulette tables and 130 slot machines promise a lot of fun. It is one of the famous casino resorts in Germany.
8. Star World Casino – Oklahoma
WinStar World Casino is the second-largest casino in the world! With 48,200 m² of space for a variety of games, you have 7,200 slot machines at your disposal, 46 private poker rooms, and more. But luxury is not limited to the Casino: in addition to the 1,000-room hotel, win Star has a SPA, golf course, gym, and convention center.
9. City – Rustenburg, South Africa
The Casino has 33 tables for visitors to play their favorite table games, including baccarat, blackjack, and roulette. In addition, it also offers more than 852 slot machines and video poker. The Slot Private room, where you can find the slot machines, is open 24 hours a day to visitors with a minimum bet of R5 to R100. Table games, on the other hand, have higher betting limits and can reach up to R10, 000.
10. Marina Bay Sands Casino – Singapore
Marina Bay is, quite simply, the most expensive Casino ever built in the world. It cost the US $ 5 billion, which was very well invested in 2,561 suites, 120,000 m² of the convention center for up to 11,000 people, a giant shopping mall, ice skating rink, two amphitheaters, 4 nightclubs, 37 restaurants, a museum, a promenade by gondola, and the famous infinity pool There are 15,000 m² of four levels of games, 1,500 slot machines, and 600 tables. No matter The outcome of the game, luck, is certain in these casino resorts.
Conclusion
Whatever your choice is, know that you are sure to have a lot of fun while playing for real in a casino. Happy gaming!