Casino Outfits: Ultimate Guide for Men and Women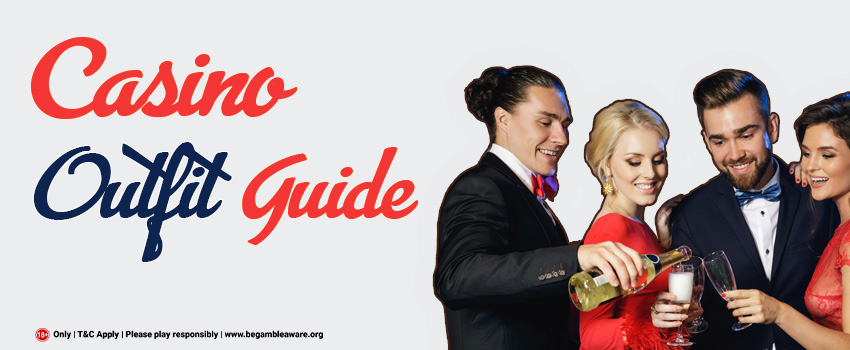 Online casinos are renowned for their convenience and accessibility. These gambling platforms allow players to enjoy casino gaming from the comfort of their homes or on the move. So, one doesn't need to worry about casino attires when playing mobile casino games online.
However, many land-based casino operators require their guests to follow specific dress codes when visiting and playing at their venues. As such, here's an article that details everything you need to know about dressing for the casino floor.
History of casino attires
The casino attire requirement at brick-and-mortar casinos is an old practice. Back in the day, when casinos weren't widespread, only rich people – who had time, money and resources – visited gambling venues. As such, casinos needed to maintain a good gaming environment for these high-profile to visit again. And they did it by requiring their players to follow specific dress codes and giving utmost importance to casino security.
While many casinos have now relaxed their strict casino dress code requirements to suit the modern player, some high-class gambling venues still don't allow visitors to enter unless they follow their strict dressing rules.
A look at some common casino dress codes
Just like it's important to know the basics when you play Blackjack online or Roulette online at internet casinos, players need to be well-versed with the dress code when visiting a land-based gambling venue. As such, here's a look at some common dress code requirements for brick-and-mortar casinos:
Casual
Today, many land-based gambling venues don't require their players to don outfits that are shown in popular gambling movies. The requirement is pretty casual – you can wear anything in which you feel comfortable and relaxed and is suited for everyday use.
Men
– Jeans and a casual button-down shirt are the most popular casual casino apparel. You may also use slippers and shorts to visit the casino during the daytime.
Women
– For women, a casual casino outfit consists of plain t-shirts, sweaters, jeans, khakis, skirts, and less low-cut blouses. Just like men, shorts and slippers are not allowed during nighttime.
Interestingly, this casino attire is also used by online casino players when playing the best online casino games, though internet casinos don't have any hard and fast rules for casino dress codes.
Business Casual
Business Casual is what most white-collar professionals use in their everyday job. While Business Casual attire may include different things in different localities, it's something that you would wear at formal parties and western weddings.
Men
– At gambling venues that require business casual attire, men should wear a blazer or a sports coat and pair it with slacks or khakis. Here, wearing a tie isn't a strict requirement, but we suggest you go with it. When it comes to footwear, loafers are usually accepted.
Women
– For women, a good business casual outfit includes blouses, sweaters, collared shirts, and closed-toe shoes. Trouser suits and khakis are workable, but stockings and hoses may not be permitted.
Business Formal
Business Formal is one of the best ways to dress in a professional setting. And it's also an elegant way to dress when visiting a land-based gambling venue. If you aren't sure about the specific dress code, Business Formal is the way to go as it works in both casual and more formal settings.
Men
– For men, good business formal attire consists of a dark suit with a light-coloured formal shirt, along with a pair of leather shoes. Here, wearing a necktie is recommended and formal shoes are strictly required.
Women
– Women can wear pencil skirts and other conservative-length skirts. They can also go with slacks or stockings that aren't too tight. Casual shoes and some elegant jewellery items are also okay.
Things to not wear to a casino
To have a common casino gaming environment, many land-based gambling venues deter players from dressing in a super-casual way. Here are some general tips that will help you avoid making mistakes when dressing up for a casino visit:
Avoid wearing shorts, sweatshirts flip-flops if you're visiting the casino in the evening.

If you're planning to visit a high-class gambling venue, you must avoid casual clothing.

Strictly avoid clothes that are dirty or torn in any way.

Avoid clothes that are too revealing.

If you want to wear casuals for your morning or early-afternoon casino visit, make sure they don't have any offensive slogans or images.
Conclusion
While this casino article covers all the common casino attires, the exact casino dress code requirement depends on the gambling venue you're planning to visit. As such, you would want to combine the information in this article with the details about casino attires given on your chosen casino's website. Have a great casino gaming journey!