The Different Types of Slot Machine Symbols Explained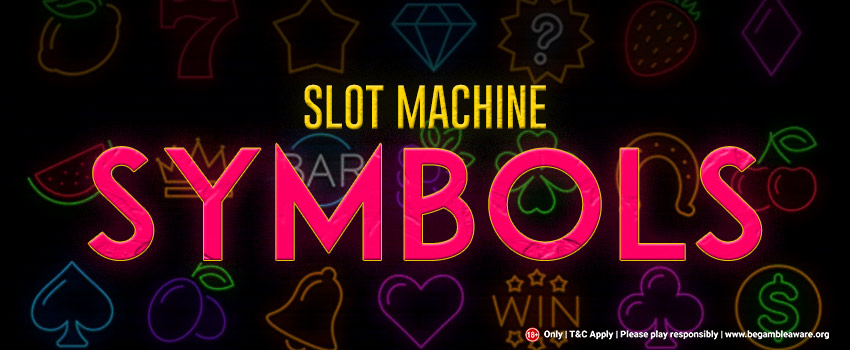 Slot symbols are an essential element of slot machines, as they are one of the reasons why slot games are so alluring and entertaining. Also, slot symbols help players in knowing whether they've won or not, though the outcome in slot games is determined by the RNG software. Here, we delve deep into the basics and the working of popular slot machine symbols. Continue reading!
Slots symbols history
Invented in the late 1800s, slot machines have been around for more than a century. As such, slot machine symbols were quite different in the past than we know them today. In the early 20th century, slot machines usually had face cards, the Ace and the 10s as their symbols.
In the mid-1950s, slot manufacturers started experimenting with new symbols in an attempt to attract more players. And this led to the advent of the fruit machine symbols, such as lemons, cherries and oranges. Also, this was the time when the popular bubble gums, the number 7 and the bar symbol went mainstream. Interestingly, many of these symbols can be found in online slot games even today.
Types of slot machine symbols
When playing slots at the best mobile casino, no two slot machines are exactly the same. Online slots tend to differ in terms of payout rules, available symbols and bonus rewards offered. But the slot symbols featured in online slot machines usually come under a handful of slot symbols categories. Below we explain the most popular types of online slot machine symbols:
Standard symbols
Simply put, these are the regular symbols that pay out when you manage to land them on the reels of your slot machine. Here, the payout depends on the number of symbols you've got on the reels. At most online casino sites, you need to have at least three standard symbols in order to receive a payout.
The way the standard symbols look depends on your chosen slot game. In some popular slot machines, you'll find the high-paying card symbols – King, Queen, Ace and 10 – as the standard symbols. Other slot machines make use of classic fruit symbols such as bars, cherries and dollar signs to represent regular symbols.
These days, several leading game providers feature symbols that match the main theme of the game. In such online slots, the standard symbols used can range anywhere from wild animals to fictional characters.
Wild Symbols
Wild symbols are special symbols that are highly favoured by online slot players. These symbols can be found in almost every video slot, though you must double-check if the paytable of your chosen slot game. Also, wild symbols appear randomly on the reels, making the overall gameplay more enjoyable and entertaining.
A great thing about wild symbols is that they can substitute for other symbols to help you form a winning combination. The only exception to this rule is the scatter symbols (which we'll explain shortly). Furthermore, wild symbols sometimes come with special features that can help you improve your winning chances. For example, expanding wilds in multiplayer slots can cover the entire reel they appear on.
Scatter symbols
Scatter symbols are another popular slot symbol type that can be found in several modern-day slots. These symbols are unique in the sense that they don't require players to form certain combinations to reveal bonus features. Rather they spread out on the reels to unlock free spins and other special bonus rewards.
Note that in some online slot machines, you'll need to have at least three scatter symbols (anywhere on the reels) to trigger the bonus round. In other games, you may need just 2 scatters to initiate the extra features. As for the scatter free spins feature, you'll receive anywhere between 5 and 15 free spins, depending on the number of scatter symbols you manage to get.
Bonus symbols
As their name implies, these symbols are used to initiate bonus games in online slot machines. Bonus symbols are somewhat similar to slot scatters, as players often need to get a specific number of these symbols on the reels before they can activate the bonus features.
While not as common as wild symbols and scatters, bonus symbols can often be found in slot events hosted by the top online casinos. If you're new to the world of online slot tournaments, you may want to check out our comprehensive slot tournaments guide that details everything you need to get started. Also, we offer online slot tournament tips that can help you improve your overall chances of winning.
So, these were some of the most popular slot symbols you'll come across when playing slots online. While there are several other types of slot machine symbols, the ones mentioned in our article are quite common and have also led to some of the biggest slot machine wins in slots history. Happy slot gaming there!