Top 5 Biggest Poker Wins in Poker History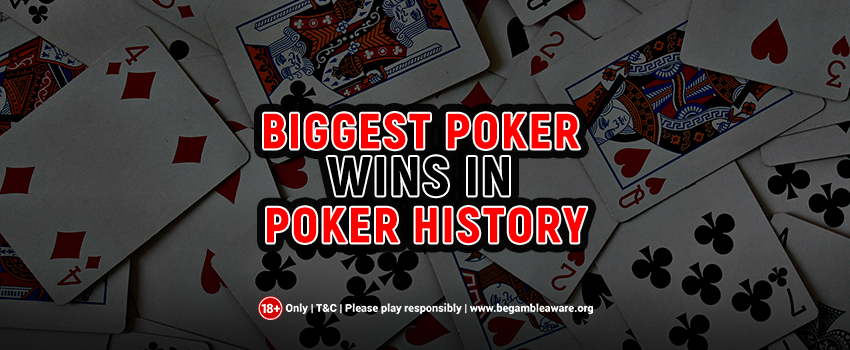 The game of Poker has fascinated casino players since its introduction in the 19th century. Poker players can try their hands at several exciting Poker variations, including Texas Hold'em, Omaha, Seven-card Stud and High Low Chicago.
Over the years, Poker has seen several players who've won humongous amounts with their luck and skill. Here's an article that details the biggest Poker win in the game's history. Keep reading!
Bryn Kenney – £16.5 million
Bryn Kenney takes the top spot in our list of the biggest Poker wins in poker history. After all, he cashed in a whopping amount of £16.5 million ($20 million) at the 2019 Triton Super High Roller series. The high stake tournament had a buy-in of £1.05 million and pitched in 54 players.
Interestingly, Bryn finished in the second spot in the Poker competition. But he managed to grab the highest amount in winnings, all thanks to a deal between Kenney and the first-place winner Aaron Zang. 
When Aaron and Bryn entered the tournament's final round, the latter had four times as many chips as the former. As such, they agreed to split the prize. But as Bryn had a larger chip stake, he was given a bigger share of the top prize. This is a good example of how Poker psychology can sometimes help you.
Antonio Esfandiari – £15 million
Iranian-born Antonio Esfandiari occupies the second position on our top Poker winners list. Antonio has won three WSOP bracelets to date, with his second WSOP win getting him a significant prize amount winnings.
Antonio's humungous win of £15 million ($18 million) came from the Big One for One Drop competition, which was added to the World Series of Poker in the early 2010s. The Poker star had to beat 47 other top participants to win that huge prize. Antonio hasn't been highly active in the Poker tournaments world recently, but he enjoys playing Three Card Poker and other casino games online in his free time.
Daniel Colman – £12.7 million
Hailing from Holden, Massachusetts, Daniel Colman is a professional Poker player who started playing Poker in the early 2000s. His first live tournament win came in 2008 when he finished at the fourth spot in the Heartland Poker Tour (HPT) $5,000 Verona Main Event. Then he continued posting modest wins in live Poker tournaments until 2013.
Daniel's breakthrough £12.7 million ($15.3 million) win came in the 2014 WSOP Big One for One Drop event, where he beat Poker star Daniel Negreanu heads-up. Interestingly, Colman was just 24 years at that time. Up until now, "mrGR33N13" (as Colman is known on the internet) has grabbed £24 million ($28.9 million) in live Poker tournament earnings. Due to his presence on the web, it's no wonder that Colman is an avid fan of online Poker and enjoys playing other mobile casino games.
Elton Tsang – £9.9 million
Elton Tsang is a Chinese-Canadian Poker player known for popularising high-stake Poker games. Also, Elton created the first live Poker competition in China and was part of one of the biggest Poker competitions televised on TV.
14 October 2016 was a big day for Elton Tsang, as he won the No Limit Hold 'em Monte-Carlo One Drop Extravaganza. Winning the event brought him £10.10 million ($12.13 million) in tournament earnings that day. Elton's huge win makes him the 5th largest single tournament cash winner in the game's history.
Jamie Gold – £10 million
TV producer and agent Jamie Gold primarily see Poker as entertainment. But that doesn't mean he hasn't posted huge wins in live Poker events.
Jamie's best live Poker competition performance came in 2006 when he beat Paul Wasicka in WSOP's main event and won £10 million ($12 million). Jamie currently works as the president of the production at a renowned entertainment firm and regularly participates in top Poker competitions.
Summing Up
So, this covers the top five biggest wins in the history of Poker. Winning such humongous amounts requires exceptional skills, years of practice and access to significant bankroll amounts. Also, luck is vital in grabbing huge wins in Poker competitions.
While winning in Poker tournaments isn't always guaranteed, one thing we can say is that Poker is one of the best casino games to play. If you're just getting started, then our Video Poker guide is there to help you. Have a fun and entertaining Poker experience there!