Unique Gambling Nicknames You've Never Heard Of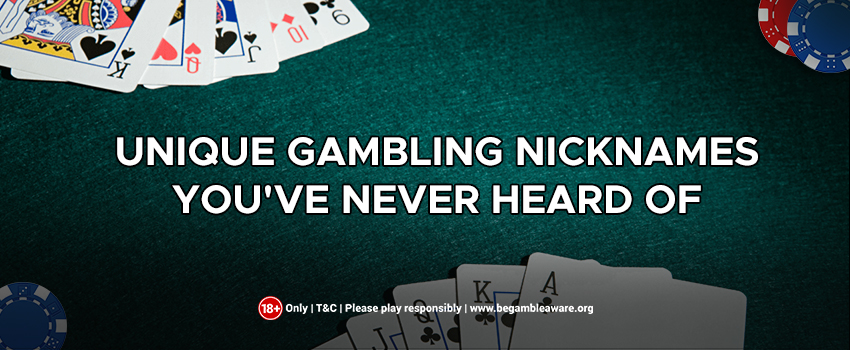 Gambling nicknames have been around since the time casino gaming went mainstream. While nicknames may not bother recreational much, serious players take them quite seriously. In fact, some of the best casino players in the world are known by their nicknames. In this article, we explain to you what gambling nicknames are and how they're created. Also, we list some popular and interesting casino gambling nicknames. Read on!
What exactly are gambling nicknames?
Simply put, a gambling nickname is humorous or familiar given to a casino player. Gambling nicknames are usually given by friends and fellow players at a casino table, but some casino online players opt to nickname themselves. Below we offer a short glimpse into how different types of gambling nicknames are formed:
Abbreviations – First or last letters of a player's name or surname. According to some gambling books, casino players may choose to use their family name as well.
Appearance – Any physical feature that distinguishes the player from others.
Background story – Explains some unique achievements by the gambler.
Events – A notable event that has happened with the player.
Foreign Language – Words from a foreign language.
Luck – A name or number that seems to be lucky for the player.
Personality – A discernible characteristic of the player.
Pet name – A special name used by close friends or family members.
Profession – A name that's derived from the gambler's profession or day-to-day job.
Gambling nicknames by players' type listed
Now that you know what gambling nicknames are and how they're created, let's have a look at some unique and interesting nicknames:
Canister Man – An old player who's in a wheelchair and needs a huge oxygen tank at times.
Dark Horse – A player who unexpectedly wins and other gamblers don't know much about.
Down to the Felt – A gambler who has consumed all his bankroll.
Fish – An inexperienced player who keeps on losing.
George – A player who tips huge amounts to the dealer.
Longshot – The unexpected winner in Blackjack or some other casino game.
Mechanic – Someone who tries to use advantage gambling techniques.
Pigeon – A novice player who still has a lot to learn about Roulette games and other popular casino titles.
Poker face – A player who hides his true thoughts and emotions.
Poker Star – A bad player who is loved by opponents because of his losses.
Pro – Commonly used in slot games, a pro is a person who has gambling as his main source of income.
Queen of Hearts – An experienced female player with great gambling skills.
Rathole – Someone who conceals chip stacks in order to hide wins.
Robin Hood of Poker – A skillful player who donates a part of his winnings to noble causes.
Scalper – A gambler who benefits from the odds' differences at various bookmakers.
A whale is – Player who consistently wagers huge amounts of money. This nickname is a part of some popular gambling movie quotes.
Turkey – Someone who disrespects the dealer, casino staff, and fellow opponents at the table.
Under the Gun – Player who's sitting on the direct left of the blinds at a Poker table.
A look at popular gamblers and their nicknames
Several popular sports stars, actors, singers, businessmen, and other celebrities are avid fans of casino gambling. And when playing casino games, these stars prefer to be called by their nicknames. Here's a look at some famous Poker players and their nicknames.
| | |
| --- | --- |
| Player | Nickname |
| Thomas Austin Preston Jr. | Amarillo Slim |
| Julie Weintraub | Big Julie of Vegas |
| Henry McCarty | Billy the Kid |
| Jimmy Newton | D.B. Cooper |
| Crandell Addington | Dandy |
| James B. Brady | Diamond Jim Brady |
| Lou Weinstein | Einstein |
| Carlos Mortensen | El Matador |
| Linda Johnson | First Lady of Poker |
| Doyle Brunson | Godfather of Poker & Texas Dolly |
| Johnny Moss | Grand Old Man of Poker |
| Gladys Morris | Ink Daubbin' Granny |
| Joseph Anthony Fatone Jr. | Joey Tunes |
| Dave Baksh | Loud Mouth Dave & Dave Brownsound |
| Nicholaos Andreas Sandolos | King of all Gamblers |
| Merle Wilson | Old Yellow Hands |
| Bryan Roberts | Sailor |
| Gadoon Kyrollos | Spanky |
| Michael Mizrachi | The Grinder |
| Johnny Chan | The Orient Express |
| Humberto Brenes | The Shark |
| James Butler Hickok | Wild Bill |
Summary
Nicknames are a prominent part of several cultures and traditions. In the context of casino gambling, many players use nicknames to give their opponents a specific impression of themselves. For others, it's all about adding some fun element to the overall gameplay. While nicknames may not be that widespread at mobile casinos, they are used by thousands of brick-and-mortar casino players around the world.