Blackjack Shuffle Tracking: What Is It and How Does it Work?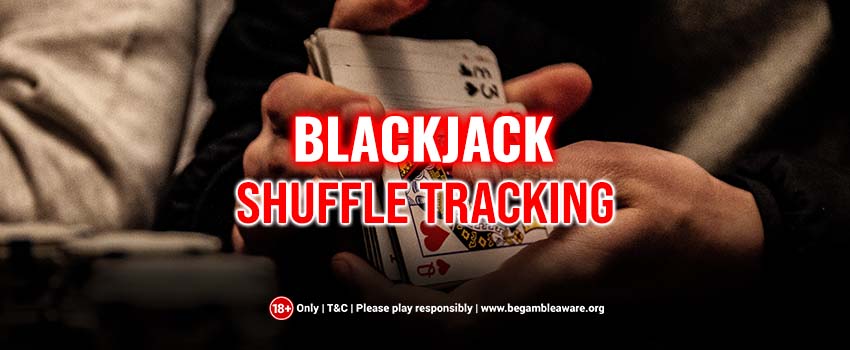 If you've been playing card-based casino games for a while, you'd know that some players use advantage-playing techniques to get an edge over the house. In Blackjack games, card counting is arguably the most popular and practised advantage playing technique.
However, it's not the only advantage play method that can be used in Blackjack games. Along with counting cards, some players employ shuffle-tracking techniques to track specific cards or card sequences. Continue reading as we explain what Blackjack shuffle tracking is and whether it can be used in online Blackjack games.
What is shuffle tracking?
Shuffle tracking is an advantage play technique commonly used in Blackjack games. But it can be practised in other card titles that involve the usage of multiple card decks.
As the name implies, shuffle tracking requires players to keep track of specific cards or card sequences before and during the shuffling process. As the dealer deals the cards during a Blackjack round, players record the placement of specific cards and use that information to their advantage.
Usually, shuffle tracking for players aims to track high-value cards by attentively observing them as they are dealt, played, and put into the discard tray. This provides them with important information about the card decks as they are put back in the shoe.
Besides, knowing the position of slugs of high cards allows players to adjust their wagers accordingly. You can check out our article on Blackjack history if you want to know more about the origins of shuffle tracking and other card-counting methods.
Keeping track of the shuffling method
To employ the shuffle tracking technique, there are certain things that players need to be aware of. And one of them is the method used by the dealer to put the cards back into the shoe.
Shuffle tracking is relatively easier to do when simpler shuffles are performed. And simpler shuffles are usually used in multi-deck live Blackjack games offered by land-based and mobile casinos online.
For players wondering why using sophisticated shuffles in multi-deck games would consume a lot more time.
Players who employ shuffle tracking usually tend to play Blackjack games using six to eight standard card decks. As you'd guess, players employing shuffle tracking must be keen observers and need to have an excellent memory.
Types of shuffle tracking
As mentioned earlier, how the cards are shuffled varies from one Blackjack game to another. Some live Blackjack games offered by the online casino may involve a manual reshuffling of cards, whereas other games might employ an automatic shuffler. So, it's no wonder that there exist several shuffle tracking techniques. Below we've listed the most common ones:
Zone-tracking
– Players locate a slack of high-value cards and follow it as it is placed back into the shoe.
Key card location – In this shuffle tracking technique, players identify a single card and keep track of the ones that follow. That way, players know what card will follow when the main card appears.
Ace Sequencing
– Here, players keep track of the Aces in the Blackjack deck/decks and use that information to guess when they'll be dealt. That way, they can adjust their doubling down a wager or other upcoming bets.
Ten Steering
– This shuffle tracking system is similar to the Ace Sequencing method. But instead of tracking Aces, players locate the ten cards instead.
Shuffle tracking in online Blackjack games
Shuffle tracking may hold some value at land-based Blackjack tables. You can identify the flaws in a dealer's shuffling method and use that knowledge to your advantage. But when playing Bitcoin Blackjack or any other private Blackjack game at an online casino, shuffle tracking won't help you much. This is because online Blackjack games are based on the Random Number Generator (RNG) software that reshuffles the cards after every round. Due to the nature of the RNG system, it's impossible to predict the next set of cards.
Nevertheless, playing Blackjack online is a highly fun and exciting thing to do. While you may be unable to shuffle track cards, online Blackjack games have numerous great gameplay features. Also, there are several bonuses and promotional rewards that online Blackjack players can benefit from.