Understanding the Fundamentals of Poker Tournaments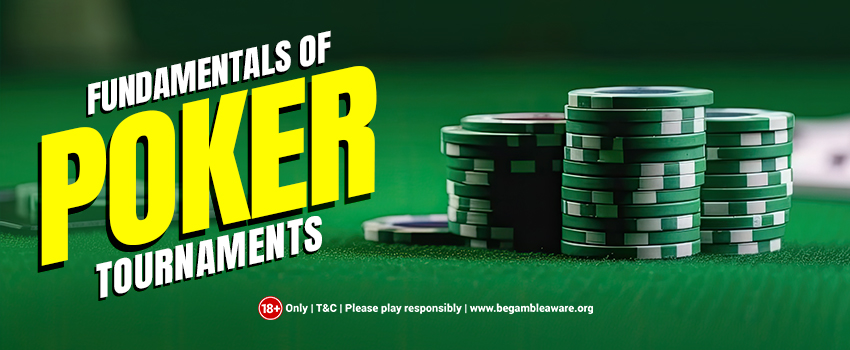 For every game, tournaments are held so players can come together to play against each other to see who is the best among them and win rewards. So why would poker games stay away from having their own tournaments?
Poker tournaments these days are widely held in casinos online in the UK and other parts of the world. Players can play these live poker games from the comfort of their homes. These tournaments are not taken lightly by players; they employ all the skills they learned from poker strategy books, such as poker psychology, bluffing, and poker calculation, to land big poker wins. 
Practising such poker events can bring big wins to the players. The biggest poker wins are recorded in the names of Jamie Gold, Antonio Esfandiari, and Justin Bonomo, to name a few. 
Types of Poker Tournaments
Poker tournaments are held around the globe in physical and online forms. There are various types of poker tournaments, like freezeout tournaments, rebuy tournaments, shootout tournaments, satellite tournaments, bounty tournaments, sit and go tournaments, and multi table tournaments.
Freezeout Tournaments
In freezeout tournaments, players buy-in for a set amount and continue playing until they lose all their poker chips. Once a player loses all their chips, they are out of the tournament. In rebuy tournaments, players can buy more poker chips if they lose all their chips within a certain time frame. The rebuy period ends after a certain amount of time or after a certain number of levels.
Shootout Tournaments
In shootout poker tournaments, the players start playing at single tables, and the winner of each table advances to the next round. This continues until only one table remains, and the winner of that table is declared the tournament's winner. 
Satellite Tournaments
When it comes to satellite tournaments, it awards seats to a larger tournament instead of rewarding the players with cash prizes. Satellite tournaments are the token way for players to win seats at larger tournaments with high buy-ins. 
Bounty Tournaments
In bounty tournaments, players receive a cash prize for each player they eliminate from the tournament. Players usually receive a portion of the bounty when they eliminate a player, with the remainder going towards the prize pool. 
Still and Go Tournaments
The still and go tournaments are typically smaller tournaments that start as soon as the required number of players join the event. These tournaments can be played with a single table or multiple tables, and once all players have been eliminated, the tournament ends. 
Table Tournaments
When it comes to multi table tournaments, these are large tournaments that feature many tables of players. As players are eliminated, the remaining players are moved to other tables until there is only one table remaining. The winner of the final table is declared the winner of the tournament.
Strategies to Manoeuvre a Poker Tournament
Playing in a tournament requires more than just a skill set; players also need to master the art of playing under pressure. In a tournament, the player doesn't have control over the event, and the duration of the game can last for hours. So as to prepare for a poker tournament, players need to practise just like any other sport, with careful planning, mental toughness, and a conservative playing style, to be successful at it. 
The win of the tournament is not the final prize you take home when it comes to poker. To evaluate a successful poker tournament winner, one needs to take into consideration how much money was spent on the buy-ins and whether the win was profitable to the players. 
Players need to follow a conservative style during the early stages of the game and avoid the mistake of bluffing early so as to win early. Play considering the potential of your hands. Keep in mind that blinds are the smallest at the beginning and can play more hands during the later stages. 
A player should play a poker tournament cautiously and not take unnecessary risks. This strategy ensures that players preserve their chips and avoid being eliminated too early. Additionally, it helps them stay focused and disciplined throughout the tournament. 
Players have to be aware of the betting patterns of their opponents and the potential hands they could have. By doing so, players can make more informed decisions and avoid costly mistakes. Another strategy that can be helpful in a tournament is to focus on the game at hand and not get caught up in the result. 
Players should not let their emotions get the best of them, as they can lead to poor decision making. Instead, they should focus on playing their best game and making the right decisions, ultimately leading to a higher chance of success. 
Finally, mental toughness is a crucial factor in poker tournaments. Players must be able to handle the pressure and maintain their focus and discipline throughout the tournament. This requires players to be mentally strong and prepared to face any challenges that may come their way.