The Most Popular Roulette Myths Debunked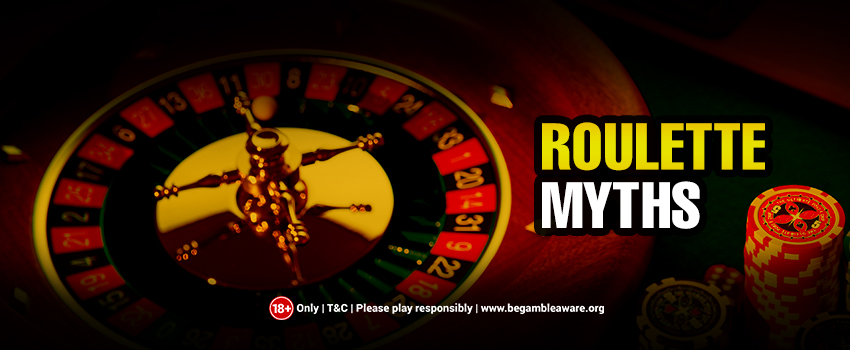 Since its introduction in 18th century France, the game of Roulette has continued to fascinate millions of casino players worldwide. Today, Roulette players can easily access their favourite Roulette games from the comfort of their homes, all thanks to the advent of live and online mobile casino platforms.
As with many other casino classics, several myths surround the game of Roulette. Below we list the most common Roulette myths and explain why they are nothing more than just misconceptions. Continue reading!
It's possible to hedge the board
.
Some Roulette players tend to believe that it's possible to hedge positions by placing several bets on every Round. Usually, these bets are spread out across the Roulette wheel.
This approach may sometimes work if lady luck favours the player. But it's important to note that it will only reduce the house edge. This is because the casino advantage is built into every spin. 
This strategy is more like playing multiple spinning rounds simultaneously. And as experienced players would tell, this will only improve the Roulette odds in the long run.
For players who still wish to go with this wagering approach, limiting it to a small number of spins is best rather than using it as a long-term playing strategy.
The results of past spins dictate the future probability
Another common misconception among Roulette players is that if a specific number or combination of numbers has appeared in previous spins, it it's more or less likely to come up in the future.And this often leads to reckless decision-making that needs to be justified when considering the nature of land-based or online Roulette UK games.
Every time the dealer spins the wheel or you hit the "Spin" button in Roulette online, each number has an equal chance of showing up. And this applies to the red and black colours as well. Thinking that the outcomes of previous spins dictate future probability is nothing more than just a Roulette myth.
You need to stick to one Roulette bet type
.
Players who've got significant wins by following a particular betting style think it's best to keep following that one. But in reality, there are several different wagering styles to go with in Roulette, and one is sometimes better than the other.
Using all available wagering options is the best to make the most of your Roulette time. Rather than trying to find patterns that aren't there, go with wagering styles and the Roulette strategy that suits you the most.
Online Roulette is rigged
.
Online Roulette lacks a live dealer, so some might believe these games are rigged in the casinos favour. But again, this is nothing more than just a Roulette myth.
First, offering rigged games is detrimental to the casino's image in the long term. Having negative complaints about biased results and unfair practices could mean closure and legal implications for the casino.
Next, all online Roulette games offered at our new and other top casino sites use the Random Number Generator (RNG) system. The RNG software ensures the outcome of every Roulette spin is entirely random. Furthermore, the RNG system is audited by reputable independent third parties to ensure its fairness and accuracy. So, players can rest assured that online Roulette titles aren't biased or rigged.
Roulette is the devil's game
.
French mathematician Blaise Pascal was responsible for developing the Roulette wheel, though he had no conscious intention of doing it. Pascal unintentionally invented the Roulette wheel when trying to create a machine that would run indefinitely without drawing any external power.
Many believe that it was the devil who inspired Pascal to create the game of Roulette. This is because the numbers on the Roulette wheel add up to the devil's number 666. But again, it's just a coincidence that the sum of the Roulette wheel numbers is the same as the devil's number.
Summing Up
Myths and misconceptions have long existed in Roulette history. As a Roulette player, separating myths from facts means you can have a more enjoyable and entertaining Roulette gaming experience.
With us, Roulette players can enjoy seamless Roulette gaming action whenever and wherever they want. We have a vast selection of exciting online and live Roulette games, including French Roulette, Double Ball Roulette and Lightning Roulette. Give them a try today!