Blackjack Side Bets: Basics, Types, and Odds Listed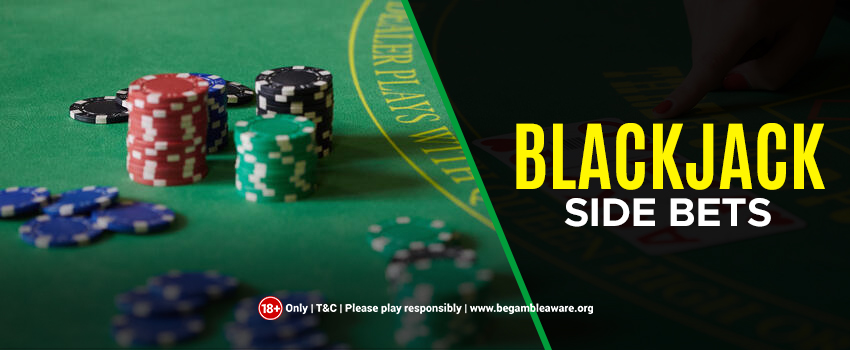 Featuring straightforward rules and a relatively low house, Blackjack is one of the most exciting casino games at online and land-based gambling venues. The fun and exciting nature of the game is further elevated by additional wagering options known as side bets. In this article, we explain to you the various types of Blackjack side bets. Continue reading!
What are Blackjack side bets?
Blackjack side bets are additional wagers placed during a standard Blackjack round. In Blackjack, many side wagers involve predicting what cards the players or the dealer will have. But some side bets may allow you to wager beyond that.
In most Blackjack games, players need to place their side bets before the start of the gameplay round. Also, every side wager is based on luck instead of skill. Some players may use the Blackjack card counting technique to select the most likely combinations for their best side wagers. Of course, you can. But card counting is something that most casinos don't like. So, keep that in mind when planning to count cards at casinos.
Common Blackjack side bets are listed
.
Now that you know the basics of Blackjack side bets, here's a look at the most common side wagers to place in the game:
Insurance
This is the most common Blackjack side bet. And it can only be placed if the dealer's up-card happens to be an Ace. With the Blackjack Insurance bet, you're essentially wagering that the dealer's hole card has a value of 10 – thus forming a Blackjack.
The Blackjack Insurance bet offers a 2:1 payout if the dealer has a Blackjack. Many players consider Insurance a risky side wager because the chances of the dealer's hole card being of 10 value are only 1 in 3. It's worth noting that the maximum amount that a player can wager on the Insurance bet is half of their main bet.
Perfect Pairs
This is another common Blackjack side wager that only uses the player's cards. To win the Perfect Pairs side bet, your initial two cards must form a pair. This side wager pays as follows:
Mixed Pair – Two cards of the same value but different suits and colour form a mixed pair. The payout here is 5:1.

Colored Pair – These are two cards of the same value and color. The payout for having a coloured pair is 12:1.

Perfect Pair – Two cards with the same value and the same suit form a perfect pair. The payout here is 25:1.
Remember that although the payouts mentioned above are common, they can vary at some online gambling sites. So, be sure to check that before you start to play Blackjack.
21+3
Adapted from Poker, the side wager can be found at land-based and online Blackjack tables. The 21+3 side bet involves the player's initial two cards and the dealer's face-up card. The available hands and their associated payouts for the 21+3 side bet are as follows:
Flush

– All cards of the same suit form a flush. It pays 5:1.

Straight

– All cards of consecutive ranks make a straight hand. The payout here is 10:1.

Three of a kind

– This hand consists of three cards of the same kind. It pays 30:1.

Suited triple

– These are three of the same cards. The payout here is 100:1.
Based on the number of decks used, the house edge for the 21+3 side bet ranges between 6.29% and 8.78%. You can use the Blackjack calculator to calculate the house edge for the 21+3 side bet for your chosen Blackjack variant.
Some other Blackjack side bets to look out for
Below are other side betting options you'd want to choose alongside standard betting options like Blackjack Split and Blackjack double down.
Over/under 13
– Here, you wager whether the sum of your initial two cards will be above or below 13.
Super sevens
– This side wager pays if your hand consists of one or more seven-valued cards. Based on the number of seven cards, the super sevens side wager pays anywhere between 3:1 to 5000:1.
Lucky ladies
– This is a side wager on the likelihood that the values of your initial two cards will add up to 20. Lucky ladies comes with a casino advantage of 17%,
Conclusion
So, these were some of the most common side bets to place in Blackjack. If you want the fascinating history behind Blackjack side bets, then we've got a comprehensive guide on Blackjack history. And for players who wish to conjoin their Blackjack gaming action with other casino games, our site has a plethora of exciting casino titles to try your hands at. Dive into the fun today!