A Beginner's Guide to European Blackjack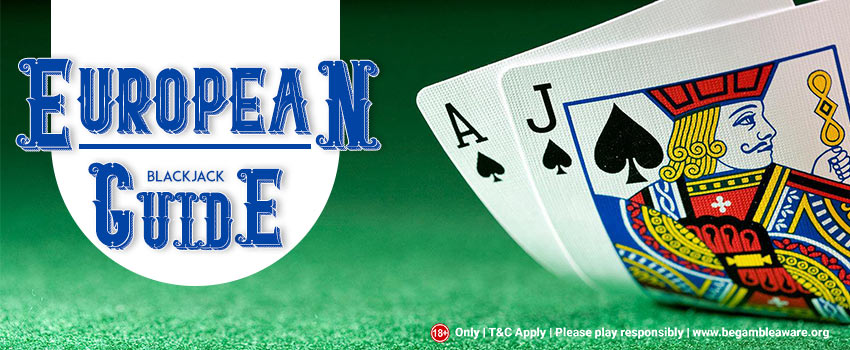 Having its own set of rules and features, European Blackjack is an exciting Blackjack variation to try at both land-based casinos and online gambling sites. While it's possible to get started with the European variant with the basics of standard Blackjack, you must know the specific European Blackjack rules if you want to play the game effectively. As such, here's a guide that covers everything you need to know about European Blackjack to play it online.
European Blackjack basics
Similarly to all other blackjack variations, European Blackjack uses a standard 52-card deck and is played between the dealer and the player. The number of decks in European Blackjack can vary from 2 to 8 depending on the rules of the game provider.
The main aim of European Blackjack is to try to have a hand value that's exactly 21 or as close to it as possible. Speaking of the card values, cards between 2 and 9 carry the same value that's printed on them. The picture cards, on the other hand, have 10 points each. As for the Ace, it can either be valued at 1 or 11 in the European Blackjack game.
How to play European Blackjack online?
If you've played other Blackjack games before, then you're good to go with the European variation of Blackjack. But even if you're inexperienced in online Blackjack, our following step-by-step guide will help you get started.
Step 1: Choose a suitable European table
Choosing a table that suits your tastes is just as important as playing any other casino games online. Even though all European Blackjack games follow the same basic rules, betting limits and payouts can differ. Make sure you check that.
Step 2: Place your initial wager
After selecting your preferred game, the next thing to do when playing Blackjack at the top mobile casino is to place your initial bet. This will lead to the dealer giving you two cards. Here, the dealer will also take two cards for themselves.
Step 3: Select whether you want to hit or stand
At this point, you take a look at your cards and choose one of the following betting options – hit, stand, double down or split. The playing options for European Blackjack are the same as the ones available in Blackjack tournaments.
Step 4: The outcome
After all the players have made their decisions, the dealer will reveal their facedown card. In addition, they will compare the value of your hand with theirs. You will win if you beat the dealer's hand by having a higher total.
Special rules for European Blackjack
Like the other Blackjack games in the history of Blackjack, the basics of European Blackjack are similar. But some rules are exclusive to the European variation of the game. They include:
If the dealer holds an Ace or 10, they don't check for Blackjack

Players aren't allowed to split on 4s, 5s and 10-value cards

Players lose their entire wager if the dealer has an exact value of 21

As a player, you can choose to double down after splitting your cards

In European Blackjack, the dealer always draws on soft 16

Upon splitting Aces, players are only allowed to have one extra card for each Ace.

The insurance bet is available to European Blackjack players, but there is no surrender option.
European Blackjack betting actions explained
As explained in our previous section, you need to choose your playing action when the dealer deals you the initial cards in European Blackjack. Below we've explained the betting actions in European Blackjack:
Stand
– To stand means not drawing additional cards and staying with what you have.
Hit
– To hit means to request an additional card from the dealer.
Double
– When you play Blackjack, you have the chance to double your wager to draw one more card. Note that this option is only available for your initial hand.
Split
– When you receive two cards with the same value, you can divide them into two hands. Afterwards, each hand can be played independently.
Insurance
– Offered when the dealer's up card is an Ace, this is a side wager on whether the dealer will have a Blackjack.
Summary
So, this covers everything you need to get started with European Blackjack. Speaking of the European Blackjack playing strategy, you can use the same basic betting system that's used in other standard Blackjack games. When in doubt, you can always turn to the Blackjack calculator, which analyses the right decision for each hand. Some players may think about playing Blackjack card counting online, however, it is not possible to count cards when playing European Blackjack online. Happy gaming there!