Blackjack Etiquette: Things You Should and Shouldn't Do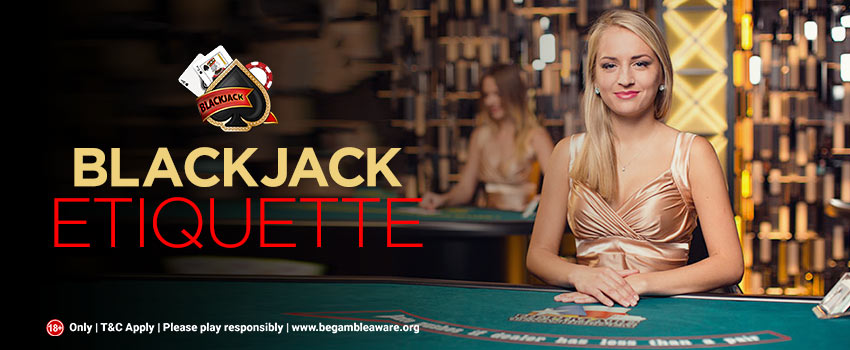 Blackjack is an exciting casino classic that is played by almost every type of casino player. While blackjack veterans may use advanced playing skills and strategies to try to get an edge in blackjack, the simplicity of the game makes it accessible to beginners as well.
Besides blackjack gameplay rules and betting options, casino players are expected to know some other things about the game. And one of them is blackjack etiquette. Keep reading to learn the various etiquettes you must follow when playing blackjack.
Handling your cards
While you don't need to worry about handling your cards in online blackjack, the way you deal with your cards when playing at a land-based casino is crucial. As a player, it may seem natural to just grab your cards and think about your next playing decision while holding them in your hands. But this isn't what casinos expect you to do.
Below are the points to remember when handling your cards in Blackjack games:
These card-handling rules, particularly the last one, were implemented to restrict rogue players from tampering with the cards. Also, it helps casinos in spotting players who are trying to do Blackjack card counting in an attempt to get an edge in the game.
Handling your chips
The same rules apply to handling your chips in Blackjack as they do to handling the cards. We've listed them below:
Interacting with the dealer
In Blackjack games, the dealer oversees the smooth and seamless functioning of the gameplay action. As such, how players interact with the dealer becomes a crucial aspect of Blackjack etiquette. Here are the things to remember when interacting with the dealer at the Blackjack table:
Interacting with other players
As with other casino-goers, all blackjack players have different styles and betting preferences. Some blackjack players are there for the game's social element, while others want serious gameplay. Whatever their playing style is, you must respect every kind of blackjack player.
Summing Up
So, these were some basic etiquettes you must always follow when playing the game of Blackjack. Note that the etiquette for things such as tipping may vary based on the geographical location of your chosen casino venue. So, make sure to confirm them with your dealer. And if you are completely inexperienced with the game of Blackjack, you can use the Blackjack calculator to calculate odds and devise an optimal playing strategy.